The Forum | Inglewood, California
Get ready everyone, the incredible Arcade Fire are on their Infinite Content North American tour!! With their brand-new album, "Everything Now|", the 7-headed art rock band is coming to The Forum on Friday 20th October 2017!! Tickets are going to sell out FAST for this event so don't delay in getting yours – hit the "Buy Tickets' button above NOW while they last!!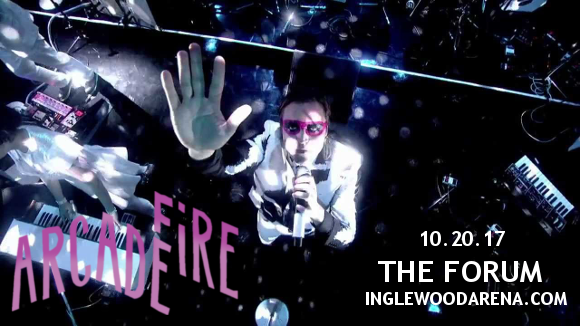 Arcade Fire's follow-up to 2013's sensational "Reflektor," has been hotly anticipated by fans for a long time now, with the band teasing with little glimpses of the new music to come; their site redirected to a confusing site that imitated a livestream and a "Russian spambot," Twitter account appearing to leak information about the new record. Now, the cat is finally out the bag – the single "Everything Now," (produced by Pulp and Daft Punk in addition to Arcade Fire!!) was released on May 31st.
Recorded in New Orleans, the album "Everything Now," is a powerhouse of a record, produced Arcade Fire, Mackey, and Bangalter, with co-production by Markus Dravs and contributions from Geoff Barrow of Portishead!! "There's sort of an everything-nowness to life," Will Butler mused, regarding the title of the album and lead single. "I feel like almost every event and everything that happens surrounds you on all sides… It's trying to capture some of the experiences of being alive now in all its flaws and all its glory."
Listen to "Everything Now," below – and be quick about snapping up those tickets!! It's going to be an incredible show!!