The Forum | Inglewood, California
Get ready to kick off the new year with a bang – Bring Me The Horizon are back with the all new album "amo," out in January, followed up by a HUGE global tour in support! It's all happening at The Forum on Wednesday 13th February 2019 – be there!! Tickets on sale NOW and going fast – grab yours while they last!!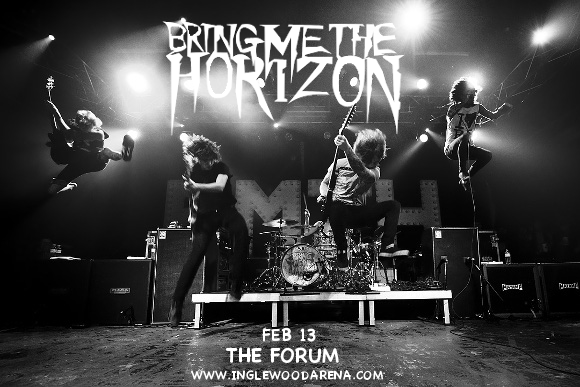 Formed in 2004 in Sheffield, UK, Bring Me The Horizon polarised opinions with their debut album "Count Your Blessings." Not to be set back even by early negative opinions, the band refined their sound and hit back with "Suicide Season" – an album that gave them new credibility and propelled them forward on their path to global recognition. Now, they are one of the best-known metalcore bands in existence.
The new album is largely inspired by singer Oli Sykes' recent divorce, and the feelings and struggles surrounding that, but there's more to to album, according to the singer. "It's not just about that. There's good stuff, there's bad stuff, there's weird stuff. It's kind of more like a think-piece on love and how it can affect you. Not just you, but other people. You go into a relationship and people pick sides. There's a pack mentality. It's quite an easy way to write a concept album about love. Everything boils down to love in the end… Obviously 'Amo' is Portuguese for 'I love', obviously there's the 'ammunition' part and then in European Portuguese it means 'master'. It sounds happy, but there are all these hidden meanings that make it more complex."
If you can't wait for the release, then make sure you don't wait to get tickets!! Get 'em today!!