The Forum | Inglewood, California
If you hear the sound of the wind and the waves closing in, you're definitely picking up some good vibrations headed to this side of town. Chicago – The Band and Brian Wilson's co-headlining tour is all set to make landfall at The Forum on Thursday 9th June 2022; with Al Jardine & Blondie Chaplin as guest artists. Chicago is known to have colored the world with its numerous top-40 hits spanning two decades. A phenomenal discography which includes smash hits like "Hard To Say I'm Sorry", "Will You Still Love Me", "You're The Inspiration", "If You Leave Me Now", "Colour My World", "Saturday In the Park", and many more! Brian Wilson, the main man with prodigious songwriting, producing, and music artistry has a treasure trove of hits like "Surfin' USA", "Good Vibrations", "Fun, Fun, Fun", "Wouldn't It Be Nice", "I Get Around", "Help Me, Rhonda", among many others. Truly a nostalgic trip that would take you from the windy sounds of Chicago down to the trippy-hippy California sounds of Brian Wilson. Lock this in and book your tickets now!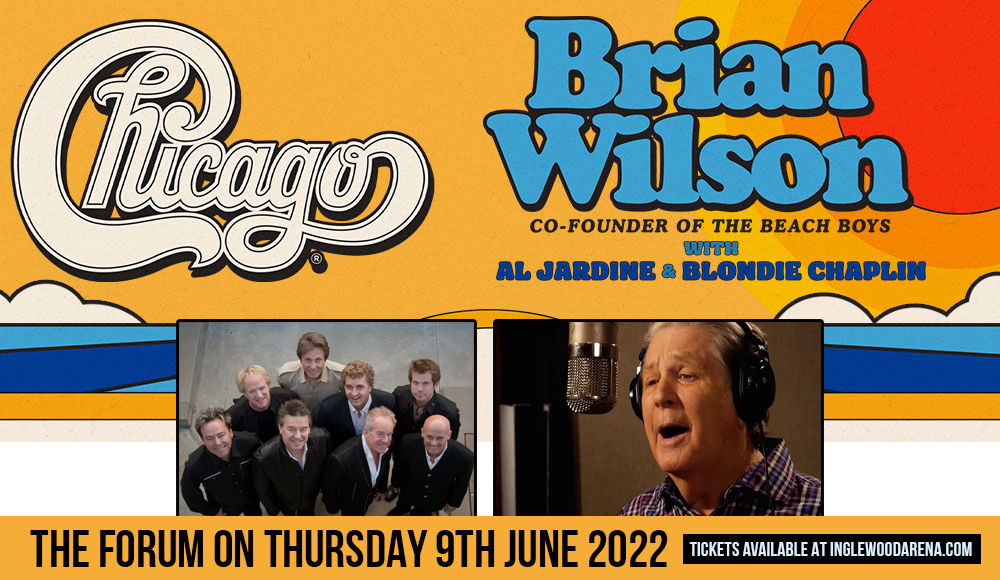 More than 40 years ago today, the elements of wind and sea waves joined forces where a historic musical event happened dubbed as 'Beachago'. The year was 1975 — Chicago and The Beach embarked on a co-headlining tour. Well, history is bound to repeat itself, version 20.22…
Known as the "rock and roll band with horns", Chicago blends elements of classical music, jazz, R&B, and pop music. Chicago Transit Authority, as they initially called themselves in 1968, debuted with a sprawling double album filled with experimental rock songs. Eventually, they shortened their band name to simply 'Chicago', as they were releasing hit-after-hit-after-hit Top 40, global chart-topping singles, and multi-platinum selling albums. Chicago has sold over 40 million units in the U.S alone., with 23 gold, 18 platinum, and eight multi-platinum albums. Their long-running career is marked with commercial and critical success, and Chicago is considered one of the world's best-selling groups of all time, having sold more than 100 million records worldwide. Chicago has ten Grammy Award nominations, and taking home one Grammy win for the song, "If You Leave Me Now". The original line-up of Chicago was inducted into the Rock and Roll Hall of Fame in 2016.
Reverence and respect are synonymous with the name Brian Wilson. His body of masterful work, mostly with The Beachboy as well as a number of solo albums, elevated him to a distinguished and exulted recognition as one of the most innovative and significant songwriters of the 20th century. His professional career as a member of the Beach Boys started with The Beach Boys, serving as the band's songwriter, producer, co-lead vocalist, bassist, keyboardist, and de facto leader. Cited and recognized by many to be one of the greatest albums ever made, "Pet Sounds" gave Brian Wilson a definitive mark of genius and wizardry in composition, arrangement, and music production, bar none. Hailed as the Mozart of Rock, or the Gershwin of his generation, Brian Wilson has the uncanny to morph and meld the California sound, art pop, chamber pop, punk, dream pop into outstanding pop-rock masterpieces that fans across generations can't stop listening to and singing out loud to.
Chicago and Brian Wilson's music may be heard everywhere but nothing beats the mind-blowing experience of catching them on the live concert stage. Hurry, book your tickets now!