The Kia Forum | Inglewood, California
Fans of emo pop, get ready for the most exciting nostalgia trip of the year – it's Fall Out Boy live at The Forum on Friday 17th November 2017! The pop-punk rockers are coming back with a brand new album waiting in the wings. Don't miss out on your chance to see them live – get your tickets today!!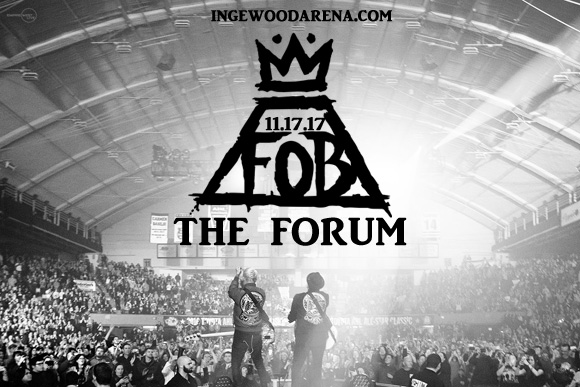 Formed in Chicago in 2001, as a product of Chicago's hardcore scene, which each of the band members were a part of, forming Fall Out Boy as a pop-punk side project. Since their first album, "Take This To Your Grave," the band has comprised of the same 4 members; singer/guitarist Patrick Stump, guitarist Joe Trohman, bassist and lyricist Pete Wentz, and drummer Andy Hurley, each of whom is much-loved as an individual amongst the band's massive fanbase.
In 2005, the band saw their first major commercial breakthrough with the album "From Under The Cork Tree," which featured the massive singles "Sugar, We're Goin Down" and "Dance, Dance." The album hit double-platinum certified status and catapulted the band into the limelight, earning them a Grammy nomination for Best New Artist in 2006. Their follow-up, "Infinity On High," caused them to become household names worldwide, with the globally successful singles "This Ain't a Scene, It's an Arms Race" and "Thnks fr th Mmrs." Since then, almost all of the band's albums has charted in the top 10, with 3 hitting the number 1 spot!
Are you ready to see the pop-punk superstars live?? Get your tickets NOW to be sure of your place!