The Forum | Inglewood, California
OH SWEET CHILD OF MINE! The legendary rockers – Guns N' Roses RETURN to The Forum on Saturday 25th November 2017!
Here to blow your mind with the line-up filled with classic material to satisfy any music fan… the Guns N' Roses will be taking to the road this coming Fall… guaranteed to be an unforgettable night with the set list including nothing but their biggest and most loved hits! Come and witness their energetic show… grab your tickets today and let them whisk you away to the paradise city!!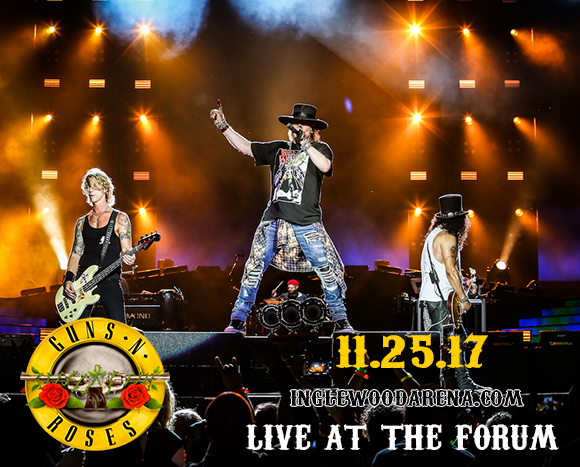 GNR are one of the most successful rock bands of all time, known for their stadium 80's sound… the lead man, Axl Rose still smashes the stage today, with his instant recognisable vocal tone and of course the lineup wouldn't be the same without the lead guitarist, Slash, together with the rest of the group they have toured the world and sold over 100 million records to date!!
These guys seriously represent the Dance Glam Rock and Roll era and have been titled on more than one occasion as the "most dangerous band in the world" – their insane but cool image and history has led them to be inducted into the Rock and Roll hall of fame and sell out full tours, even now – 32 years later! Join them as they hit the stages across North America, don't miss your chance as you never know if it could be the last!!