The Forum | Inglewood, California
There's only one place to be if you're a fan of ROCK music! With this incredible, unmissable line-up that will have you chanting til dawn! IHeartRadio ALTer Ego presents their 2019 showcase with some of the biggest bands to walk the earth! Come and catch: Twenty One Pilots, Muse, The Killers & Weezer as their live and exciting show takes place at The Forum on Saturday 19th January 2019 – tickets are available now, but are bound to sell fast so don't wait too long!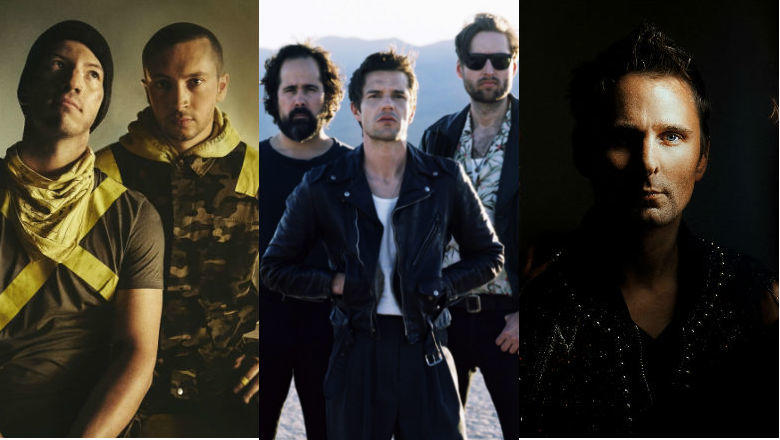 TWENTY ONE PILOTS
Twenty One Pilots break all the barriers with their groundbreaking, eye-catching, attention grabbing performances. First heading on the scene in Ohio, they quickly escalated up to the mainstream. With continuously being on the road, they formed a dedicated fan base that have stuck through with them throughout the years. Twenty One Pilots are; Joseph and drummer Josh Dun, together they have released incredible records such as Blurryface, in 2015 that included the likes of; "Stressed Out" and "Ride". As well as their single "Heathens", which became a hit in the blockbuster movie – Suicide Squad, pushing the limelight even more, giving them the showcase to becoming the first alternative group to have two top ten singles in the US charts!
"It's kind of, ukulele screamo rap-pop with, like, some piano and reggae beats," Of course, Twenty One Pilots is so much more than that: it is a way of life."
MUSE
The English rockers, Muse hardly need an introduction as one of the biggest stadium bands in the world! Since their debut in 1999, they have crafted amazing albums that have helped put them on the map, including "Origin of Symmetry" in 2001, Absolution in 2003, Black Holes and Revelations in 2006 which included the title track that exploded and Supermassive Black Hole which was another successful single for them. The talented members are; Matt Bellamy (lead vocals, guitar, keyboards), Chris Wolstenholme (bass guitar, backing vocals) and Dominic Howard (drums). All of their music has quite rightly received nothing but the very best feedback including countless awards such as two Grammys, two Brits, five MTV Europe Music Awards and eight NME's – just to name a few! This international rock group sure know how to give the crowd the best night of their lives!