The Forum | Inglewood, California
With his astounding guitar skills, the global sensation who serenaded fans all over the world to wonderland, John Mayer, is embarking on his "Sob Rock Tour" with a stop at The Forum on Sunday, 13th of March 2022. The man widely known for his acclaimed hits "Your Body Is a Wonderland", "Daughters", "Gravity", "Free Fallin", and many more, recently dropped his eighth studio record "Sob Rock" that features his 2018 certified-platinum hit single "New Light", and his 2021 singles "Last Train Home" and "Wind Blue". Mayer said in an interview with Wall Street Journal "I asked myself, 'What music makes me feel like everything's gonna be OK'", to which he expressed that 80s music he grew up with acts as a security blanked that reminds him of a safer time, explaining why his new record adopts an 80s vibe. If there's one word to describe Mayer's music, it's timeless. Throughout two decades, he never lost his signature touch that always got listeners all over the world hooked. The man is back to perform live on stage with his memorable mega-hits and brand-new music fresh from his 2021 record "Sob Rock". Book your tickets now!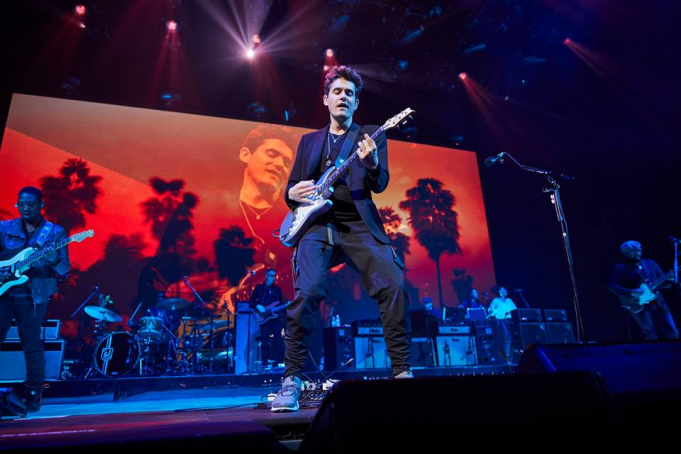 As a child, Mayer found his fascination towards the instrument that propelled him to success, the guitar, from Michael J. Fox's performance as Marty McFly in the classic hit-movie "Back to The Future". At 13, his father rented him a guitar and was given a Stevie Ray Vaughan cassette by his neighbor which drew his love for blues music. Soon after, he started taking guitar lessons from a local shop owner. At 17, after becoming hospitalized for a weekend, he expressed "That was the moment the songwriter in me was born", where he wrote his lyrics that night he left.
From high-school and college gigs, John Mayer found his breakout success with his 2001 breakout debut album "Room for Squares" that featured radio hits "Your Body Is a Wonderland", "No Such Thing", and "Why Georgia". The multi-platinum hit single "Your Body Is a Wonderland" won a Grammy for Best Male Pop Vocal Performance in 2003.
His second studio record "Heavier Things" peaked at #1 on the Billboard 200 charts, with the single "Daughters" receiving a Grammy for Song of The Year in 2005. As the years went by, he dropped "Continuum" which included fan-favorite and certified-platinum singles "Gravity" and "Waiting on the World to Change". In the following years he released his albums "Battle Studies", "Born and Raised", "Paradise Valley", The Search for Everything", and 2021's "Sob Rock".
His 2018 certified-platinum track "New Light" serves as his much-anticipated 2021 album Sob Rock's lead single. Mayer is surely shining on a new light with the return of live music and his fresh 2021 album. Consistent with the signature Mayer touch, with an 80s element where he finds assurance that everything's gonna be OK, John Mayer is back stronger than ever to bring exceptional live music back on stage. Bring yourself to a room of wonderland as John Mayer serenades you on a night of heartwarming classic hits and new music. Book your tickets now!