The Kia Forum | Inglewood, California
The global icon with his alluring guitar riffs, John Mayer, just announced his first-ever Solo acoustic tour. This is the Grammy Award-winning singer-songwriter's first full-acoustic arena tour trek. With only a guitar and a microphone, the "Your Body Is a Wonderland" and "New Light" singer is set to conquer the stage with his undeniably alluring vocals, hard-hitting lyrics, and astounding guitar riffs. Catch him perform live vocals as he lets the strings of an acoustic guitar fill the venue at The Kia Forum on Friday, 14th of April 2023. Book your tickets now!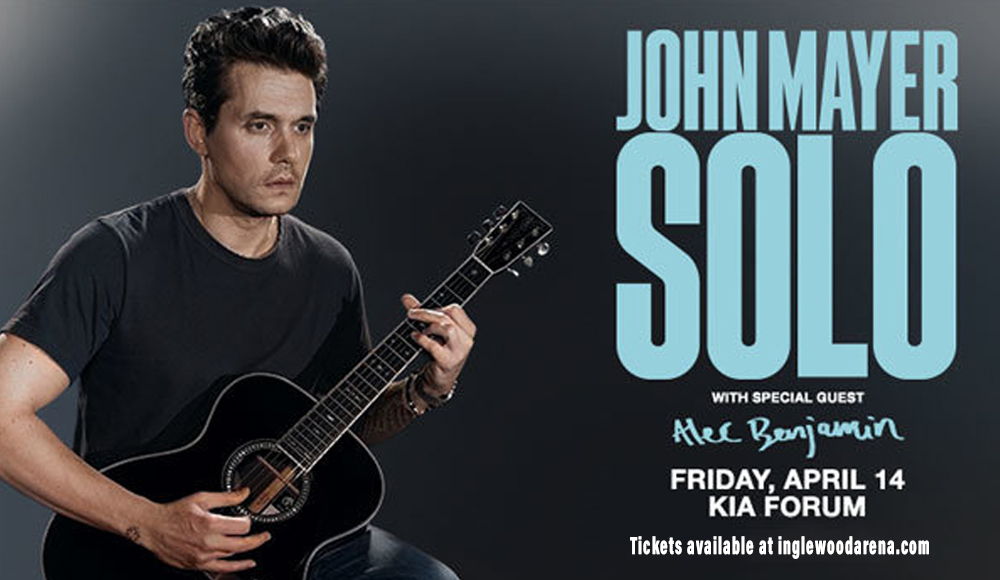 Following his highly successful 'Sob Rock' Tour 2022 in support of his 2021 album of the same name, featuring his most recent hits "New Light", "I Guess I Just Feel Like", and "Last Train Home", John Mayer announced his first-ever Solo Acoustic Tour for 2023. The extensive tour will visit arenas across the country, bringing only a mic and a guitar. As he strums those strings and lets his voice shine, you can expect the crowd to beautifully sing along to his alluring hits over the last two decades.
The John Mayer Solo tour will have him "playing old songs. Newer songs. Songs you haven't heard yet that I'll be road testing," John Mayer shared in a tweet. "All on acoustic, electric, and piano. Hope to see you there…"
Joining Mayer on the tour's Kia Forum stop is rising indie singer-songwriter, Alec Benjamin. Other tour dates will also feature Lizzy McAlpine as their opening acts.
"I knew one day I'd feel it in my heart to do an entire run of shows on my own again, just like those early days," Mayer shared on Instagram. Kicking off this March, the tour will hit 19 arenas across the US before its final encore at The Kia Forum on April 14th. 20 years of hitting the road on tour, serving live full-band renditions of his countless hits, this is the first time ever wherein each gig is composed of full acoustic sets.
John Mayer is best known for his huge breakout debut album "Room for Squares", selling over 4.4 million records in the US, receiving a 5x Platinum certification from the RIAA. The album spawned his hit singles "No Such Thing", "Why Georgia", and "Your Body Is a Wonderland".
Since then, Mayer has become a highly-influential artist in the scene for his honest lyrical masterpieces, soft pop-rock undertones, and astounding guitar riffs. More of his biggest hits throughout his 20-year journey include "Waiting on the World to Change", "Say", "Free Fallin", "Gravity", "Who Says", "XO", "Slow Dancing in a Burning Room", and "New Light".
Having toured across the world over the last two decades, John Mayer is embarking on his first-ever acoustic Solo Tour, following his Sob Rock Tour in support of his eighth studio album "Sob Rock".
As the man aims to fill up the venue with his raw voice, electric guitars, pianos, and the crowd singing along, make sure you've got your spots saved at the John Mayer Solo Tour by booking those tickets now!