The Kia Forum | Inglewood, California

This Spring, John Mayer is on tour in support of his brand new album "The Search for Everything". Kicking off on March 31st and hitting several big cities along the way, he'll be making his way to The Forum for Friday April 21st. The concert will feature a solo acoustic performance, the John Mayer Trio, and a full band, giving you the full John Mayer experience. Don't miss tickets to see the nation's favourite singer-songwriter live in the most eagerly anticipated tour of the year!!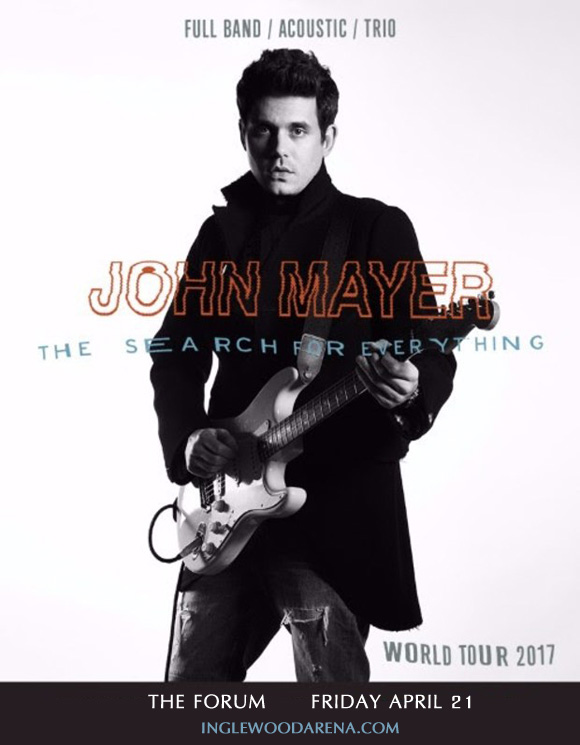 As an artist John Mayer needs no introduction. From his nomination for Best New Artist and subsequent award for Best Male Pop Vocal Performance on "Your Body Is A Wonderland" in 2003, Mayer has received countless further awards for almost every release since and gained a strong global following. Starting out more as acoustic pop/rock, he gradually began to move back towards his original blues influences, going on to perform with top blues artists B.B King and Eric Clapton.
Hugely proficient musically (and an obsessive guitar aficionado with over 200 instruments in his collection), John Mayer's true appeal lies in the raw vulnerability and integrity of his music, which has resonated with listeners from around the world. His talents don't stop there; his other pursuits have involved tv hosting, comedy, and writing for magazines as well as donating to and supporting various worthy causes and performing at charity events. After retreating from the limelight for a few years, John Mayer is back to delight fans live with more of the music you love. Grab your tickets to see him now!