The Kia Forum | Inglewood, California
Justin Timberlake comes to The Forum on Sunday 29th April 2018 for a night of unforgettable entertainment! Justin Timberlake hardly needs an introduction, know for his singles that have taken over the charts time and time again… on a night out on the town, JT's music is a must-hear as this guy has always got the fun and serving up everything you know and love about this guy – and maybe some surprises too – in this brand new 2018 tour!
Tickets on sale right here, right NOW! Book today!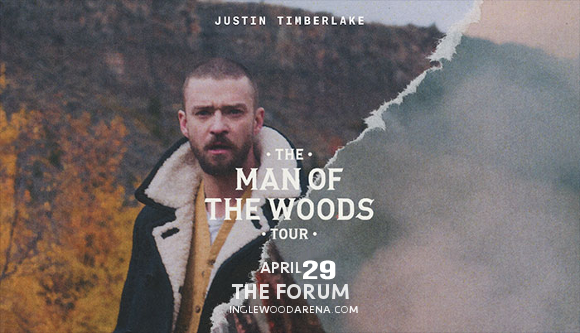 Starting off as member of NSYNC, – of course titled as one of the best-selling boy bands of all time. Justin quickly became a solo star in his own right with catchy singles off of his album, the R&B-focused Justified (2002) – through his music videos and powerfully perfectly produced tracks such as "Cry Me a River" and "Rock Your Body" – he earned his first two Grammy Awards, which was just the beginning!
FutureSex/LoveSounds (2006), characterized smashed the the U.S. Billboard 200 and produced the Hot 100 number-one singles "SexyBack", "My Love", and "What Goes Around… Comes Around".
With his global status, Timberlake had now gained 10 million sales for that album alone and as we all know continued to produce and collaborate with fellow artists on the scene and if that wasn't enough of a success, he went on to focus on his acting career… 2008 through 2012, Timberlake starred in films such as; The Social Network, Bad Teacher, Friends with Benefits, and In Time. All were some of the most talked about films of the time.
A brand new era for music and Justin Timberlake is taking full advantage of it with new sounds coming your way!! At the start of the year JT announced that he will soon be releasing an album and with it came an exciting trailer and it's first single "Filthy"… walking in the footsteps of a slightly different country infused sound, "Man Of The Woods," shows his songwriting abilities in a new light and Justin says "I think the album has a wide range of sonics to it," "But I guess I would describe it as modern Americana with 808s. Who's ready, I know i am… as time counts down you'll be able to hear more and what a great way to celebrate then with a live tour!!
Here's your chance to see Justin Timberlake LIVE in concert like you have never seen before!