The Forum | Inglewood, California
Move over men! Tonight, women are in charge! This year's K-Love Live has put together a tour de force of girl power who raring to dazzle the stage with beauty, charm, glitz, glamour, incredible showmanship, and sheer vocal prowess in a night dubbed as "K-Love Live Las Que Mandan". "Las Que Mandan" translates to 'The Women in Charge'. Yes, indeed they are! These names alone with definitely bring the house down —Gloria Trevi, Thalia, Paulina Rubio & Yuridia, all regarded as wonder women in the Latin music scene. K-Love Live Las Que Mandan: Gloria Trevi, Thalia, Paulina Rubio & Yuridia happens at The Forum on Saturday 17th November 2018. Don't be left behind. Charge! Go, buy yourself a ticket now!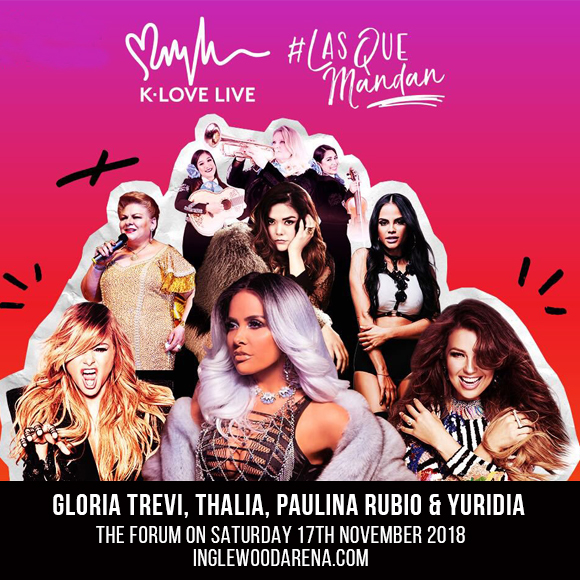 K-Love Live as part of the Uforia music series has been revving-up for the music event with a women-centric line-up. "K-Love Live Las Que Mandan (The Women In Charge)" is a celebration of women in music, putting together in one show a roster of legends and rising stars. These artists were hand-picked to represent Latina artists who have had a sizable influence and dominance on Latin music charts all over the world; plus a new generation of Latina artists who have seized the opportunity to carry the torch and keep the flames of contemporary pop Latin music burning across the globe.
The Queen of Latin Pop herself, Thalia, and one of Latin's sexiest and most enduring pop stars, Paulina Rubio, will lead the pack of new unapologetic generation of female singer-songwriters featuring: Gloria Trevi, Yuridia, Paquita La Del Barrio, Natti Natasha and Mariachi Divas.
"It was only a matter of time before Uforia Music Series put together an all-female roster of legends and fierce music-makers to entertain and empower countless young girls, women and music fans alike," said Jesús Lara, president of Radio at Univision Communications Inc. "'Las Que Mandan' at K-Love Live! will deliver a roaring experience for music lovers and the bold female artists at the helm."
An anonymous quotation says: "The best man for the job is a woman". And this is how they'll get the job done –'Las Que Mandan' at "K-Love Live!'
Be part of this diva showdown. All women, all night, all wonderful! Seize the moment and get your tickets now!