The Kia Forum | Inglewood, California
It's a Latin music extravaganza as K-Love Live comes to The Forum on Sunday 19th November 2017! With a scorching line-up of Puerto Rican reggaeton star Wisin, "Livin' La Vida Loca" pop legend Ricky Martin, Mexican pop maestro Carlos Vives & Wisin's reggaeton partner Yandel, this is going to be one hot party! Tickets available now!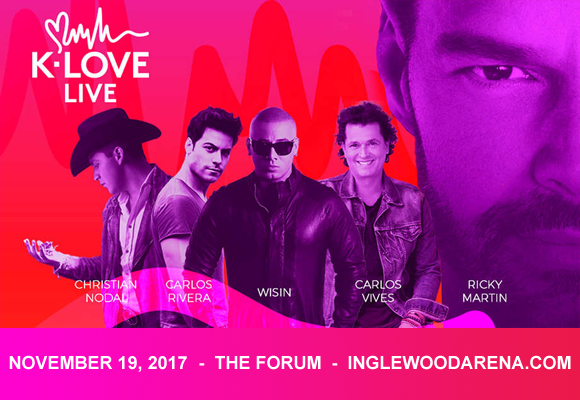 Puerto Rican singer, actor and author Ricky Martin began his career at the tender age of 12 as part of the all-boy pop group Menudo. After recording 11 albums with the Menudo, Martin left the band and pursued a solo career, releasing several Spanish-language solo albums throughout the 1990s. Martin's global success came in 1999 with the release of smash hit "Livin' Las Vida Loca," has sold over 8 million copies, making it one of the best selling singles of all time, and is credited with bringing Latin pop to the English-speaking market. His English-language debut album, Ricky Martin, is one of the best-selling albums of all time, selling 22 million copies. Since then, Martin has released Me Amarás (1993), A Medio Vivir (1995), Vuelve (1998), Sound Loaded (2000), Almas del Silencio (2003), Life (2005), Música + Alma + Sexo (2011), and A Quien Quiera Escuchar (2015).