The Forum | Inglewood, California
One of America's 'genre-bending' queens, Lizzo is back with a new anthem "About Damn Time", and it surely is 'about damn time since Lizzo went on tour. Three years since her last tour, Lizzo is kicking off The Special Tour with special guest Latto, stopping by at The Kia Forum on Friday, 18th of November, 2022. The "Truth Hurts" singer is set to release her fourth album named "Special" this coming July 15th. Expect to catch her biggest hits, and fresh new tracks off of her new record, live on stage at The Special Tour. So, don't miss out on a brand new era led by the 'good as hell queen, Lizzo. Book your tickets now!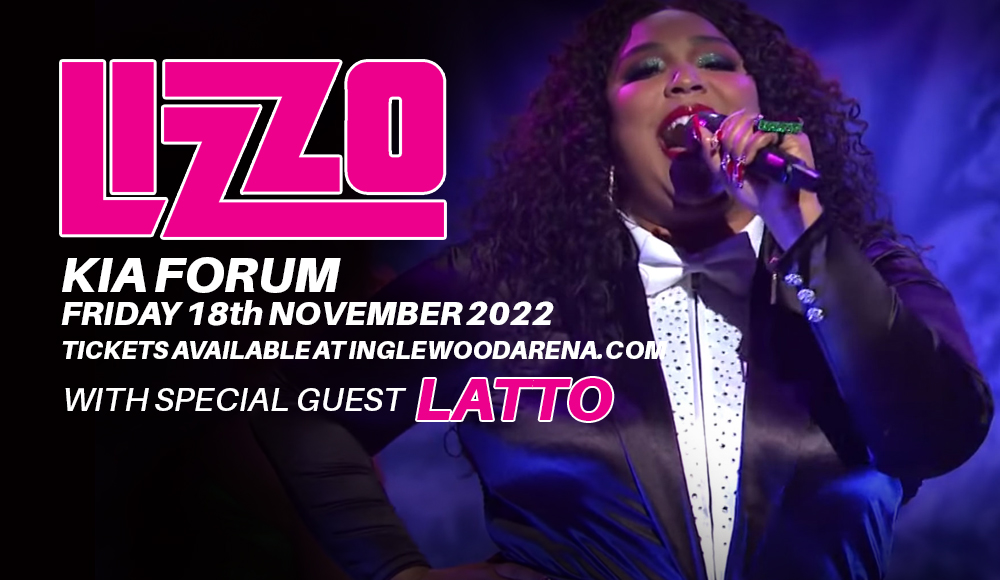 Born Melissa Viviane Jefferson, Lizzo grew up in Houston, has been a classically trained flutist, and started rapping in high school. Forming a group "Cornrow Clique" with some friends, she got the nickname "Lizzo" from Jay-Z's "Izzo (H.O.V.A.).
Lizzobangers marked the start of Lizzo's entry into the hip-hop scene. The Guardian gave her debut album 4/5 stars, expressing "At times joyfully nonsensical, Lizzo's stream-of-consciousness rhymes can also be lethally pointed.". Lizzo went on a tour, opening for Har Mar Superstar in the US and UK. Time hailed her as one of 14 music artists to watch out for in 2014.
From then on, Lizzo started to make waves through her next record "Big Grrrl Small World" and EP "Coconut Oil". Her album was placed on Spin's "50 Best Hip-Hop Albums of 2015", and Rolling Stone placed "Coconut Oil in "20 Best Pop Albums of 2016".
Lizzo has been an advocate for body positivity and self-love. "You can wake up and change many things about your appearance, but the inevitability of waking up in your skin is what unifies us" Lizzo told Vice. She emphasizes diversity in her work, expressing acceptance for one's body, race, sexuality, and more. Her backup dancers called the Big Grrrls are made up of plus-size dancers.
Though making waves in the music scene since her debut in 2013 with "Lizzobangers", Lizzo found her breakthrough in 2019 when her 2017 single "Truth Hurts" became viral through TikTok and featured in the Netflix film "Someone Great". The track was then re-released for her 2019 album "Cuz I Love You". "Truth Hurts" hit #1 on the Hot 100, the first Black solo female R&B artist to do so since Rihanna's "Diamonds" in 2012. The album peaked at #4 on the Billboard 200, bagging a Platinum certification from the RIAA.
Having stepped on the global stage, Lizzo amassed a slew of hit songs including "Juice", "Tempo", "Good as Hell" (re-release, solo or feat. Ariana Grande), and "Rumors" featuring Cardi B.
Having started with hip-hop, Lizzo embarked on a journey through incorporating elements from different genres to her sound, infusing her tracks with soul, funk-pop, and R&B.
In August of 2021, Lizzo dropped "Rumors" with Cardi B, announcing the beginning of a "new era". Lizzo told Variety that her next record will be a "love album", stating that it would be "one of the most musically badass, daring and sophisticated bodies of work I've done to date."
Just recently, Lizzo released a new single "About Damn Time", and revealed the name of her upcoming album titled "Special".
Lizzo's "Special" is coming out on July 15. As Lizzo hypes fans up for this new era, she's finally coming back on tour at The Special Tour '22, tweeting "3 years since my last tour… and I'm finally coming back to YOU!". So, hop in and join the queen herself on a 'special adventure in her new era. Book your tickets now!