The Forum | Inglewood, California
Hot off the heels of the mega-blockbuster and award-winning biopic "Bohemian Rhapsody", majestic rock band Queen is lording over musicscapes one again. This comes as an opportune time to hit the touring road, and the band are wasting no time to pull together their up and coming tour of America, covering 23 dates, and possibly more. Dubbed as the 'Rhapsody Tour', Queen has enlisted flamboyant and charismatic rocker Adam Lambert to step in as lead vocalist, in honor of Freddie Mercury. Be there as Queen & Adam Lambert
take center stage at The Forum on Saturday 20th July 2019. With legions of new breed of fans added to the fold of forever loyal Queen fans, tickets to this show will definitely be a fast mover. Don't wait until the last minute or else, you'll be royally sorry for missing such a grand show. Book your tickets now!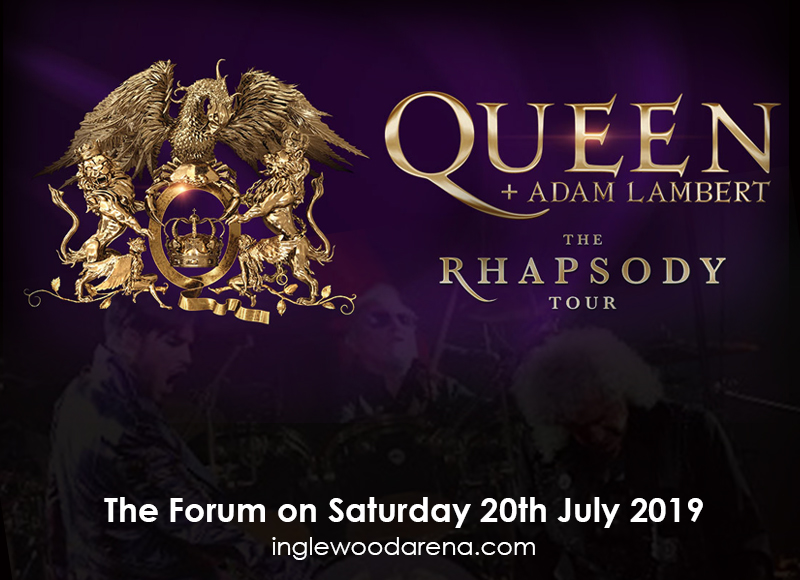 "Bohemian Rhapsody", the biopic that brought Freddie Mercury and Queen's life behind the music on the big screen was tremendously received not only by Queen fans, but it also brought in a deluge of a new generation of fans. As shown in the movie, Queen is best seen and experienced live. Hence, the band who have not rested on their thrones ever since, see this as an opportune time to get back on the road and let fans experience the real deal on how Queen will rock you.
"This is great opportunity. Our last tour featured our most ambitious production ever, and got us our best notices ever. So we decided to rip it apart and get even more ambitious! Watch out, America!," exclaims Queen's guitarist Brian May.
"We are ready for America and raring to get back in the saddle," Roger Taylor added.
The highly exuberant rocker Adam Lambert was given honorary assignment to handle lead vocals. He acknowledges the fact that he has big shoes to fill-in as he takes on the lead vocal spotlight from the late Freddie Mercury. Lambert himself and the fans too know that he is not and will never be Freddie Mercury. Lambert holds up on his own unique showmanship but still exuding that Mercury kind of magic. The show's production value and execution promises to blow the mind and stir up emotions as they pay homage to the royal genius of original vocalist Freddie Mercury.
Frontman Adam Lambert says, "We have been designing a brand new visual spectacle that will reframe these iconic songs and we are excited to unveil it!"
Audience participation and engagement is one of Queen's greatest strengths during the live concerts. So brace yourselves for some feet stomping, fist pumping, hand clapping, and vocal calisthenics too as you chant, sing, and move along to their biggest hits: "Bohemian Rhapsody", "We Will Rock You", "Radio Gaga", "Another One Bites The Dust", "We Are the Champions", "Killer Queen", "Fat Bottomed Girls", and a whole lot more!
From the big screen to the live stage, Queen is a killer! Don't miss a lifetime of excitement that this concert will bring you. Get your tickets now!