The Kia Forum | Inglewood, California
You heard right. On Monday 3rd September 2018, none other than the phenomenal multi-million selling artist Shakira is coming to The Forum, on tour with her latest album "El Dorado," her eleventh. Already the album has achieved diamond certification. Now, get ready to experience it all live – book your tickets to see Shakira NOW while they last!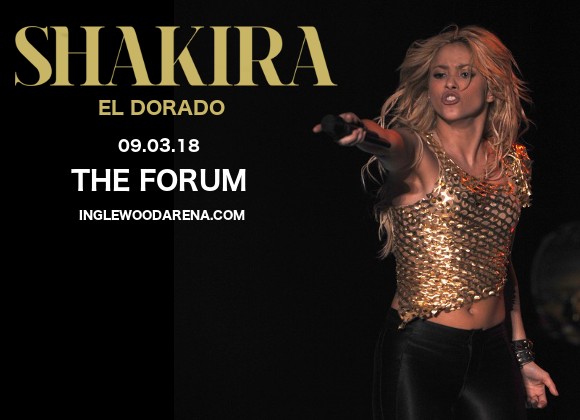 Sung mostly in Spanish, with three songs in English, Shakira's latest release shot up to the top of the charts in Argentina, Austria, France, Spain and Switzerland, hit number one on the US Top Latin Albums, and number 15 on the US Album Charts. Just prior to writing, Shakira had just given brith to her second child and found herself suffering from writer's block, leaving her unsure about how to progress in her career. Happily, the singer found a way to turn her circumstances around and see her music and the writing process in an all new light.
"My whole life, I had pressed pause on so many things in my personal life to follow my dreams, my professional dreams, to become a successful artist. And suddenly, things changed, and I saw myself as a mother, with a family I had dreamed about since I was a child," she explained. "And then, when I realized the creator inside of me was also asking to be considered, my music became my escape. The studio became the place to let some steam off, away from everyday life as a mother — that became my hobby. And then it became a pleasure like all hobbies are. So now music is my hobby."
Get ready to experience all of Shakira's new-found happiness in her writing live – it's going to be incredible!