The Kia Forum | Inglewood, California
American R&B star Sza is hitting the road for her first-ever arena tour in support of her #1 sophomore album "S.O.S.". The extensive S.O.S. tour will take place across 17 dates with support from rising R&B star Omar Apollo. As Sza gears up to bring her new record to life across the country, the tour takes a special stop at The Kia Forum on Wednesday, 22nd of March 2023, for a grand celebration of her new milestone. Her newest R&B masterpiece features her hits "Good Days", "Shirt" and "Nobody Gets Me". As the "Ctrl" record-maker takes her first #1 record to the live stage, make sure you've got your tickets booked by clicking that button now!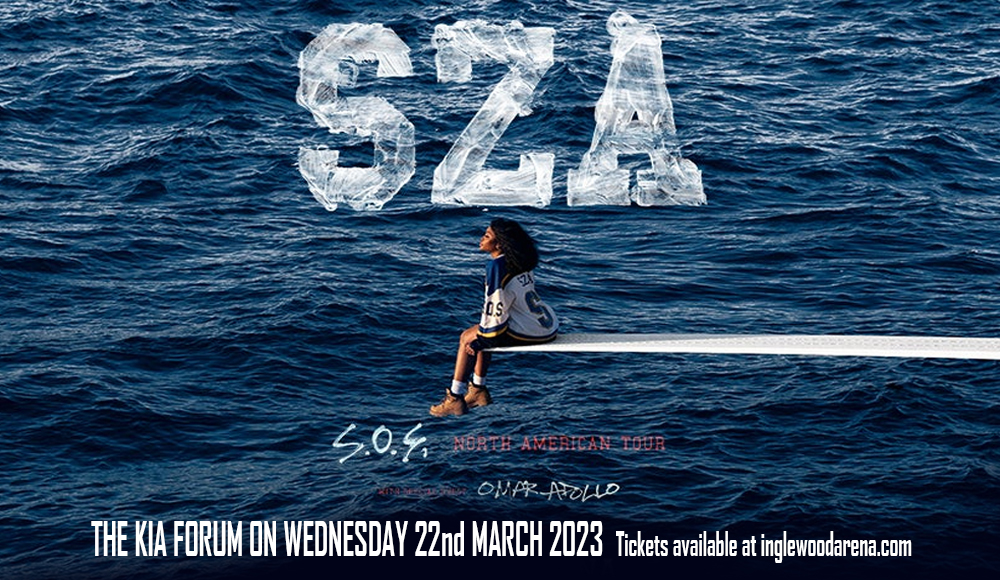 Breaking out in 2017 with her highly-acclaimed debut LP "Ctrl", American R&B singer-songwriter Sza just released her new album "S.O.S." which she previously expected that fans would hate, turning out to mark her first #1 record on the Billboard 200. As a follow-up after 5 years of Ctrl's astounding debut, she "never thought in a million years that people would like it," she explains in a Rolling Stone article. As S.O.S. makes rounds across the global airwaves with her hit singles "Good Days", "Shirt" and "Nobody Gets Me", Sza is taking her sonic masterpieces to the live stage on her first-ever "S.O.S." arena tour. She will be joined by rising R&B artist Omar Apollo as her supporting act.
"Time to take this shit on the road!" Sza shared on social media as she announced her first arena tour in her career in support of "S.O.S."
Having been in the industry since 2011, releasing a couple of EPs and writing songs for various artists including the likes of Beyonce and Rihanna, Sza quickly became a global star as her debut album "Ctrl" became an global hit in 2017. The album featured multi-platinum-awarded hits such as "Love Galore" featuring Travis Scott, "The Weekend", "Broken Clocks", and "Garden (Say It Like Dat)". Ctrl became named as Time's best album of 2017.
Beyond her solo efforts, Sza became a nameplate for her multi-platinum hit collaborations and features with other artists. Among these are "What Lovers Do" with Maroon 5, "Homemade Dynamite (Remix)" with Lorde featuring Khalid, Post Malone and SZA, "Just Us" with DJ Khaled, "Kiss Me More" with Doja Cat, and "All the Stars" with Kendrick Lamar.
As her new album "S.O.S" continues to make waves for its emotional and striking R&B tracks including "Good Days", "I Hate U", "Shirt", and "Nobody Gets Me", Sza previously shared that she thought fans would hate her album which was a five-year wait. As the record dominated the charts, what she used to describe as "bizarre acts of self embarrassment" became an acclaimed masterpiece of an album.
Pitchfork summarizes their review of the album as "SZA's long, ambitious, luxurious new album solidifies her position as a generational talent, an artist who translates her innermost feelings into indelible moments."
In an interview with Rolling Stone, Sza shares that "this album was partially inspired by love lost, but mostly inspired by my departure from attempting to be a nice girl," explaining trying to change who she is. "But I'm not a nice girl. And that's okay. And I think coming to terms with that and really expanding upon that and exploring that is kind of like this new chapter in my life."
As Sza explores new themes and braces her identity in a powerful new album, make sure you save your spots at the S.O.S. arena tour by booking those tickets now!