The Kia Forum | Inglewood, California
Be enamored with the blazing passion of Latin music. Spend a captivating evening with Mexican Bolero/ Latin pop and Mariachi artist. Alejandro Fernandez comes to The Forum for a one-night-only show on Sunday 11th November 2018. Not just a singer but a total entertainer, Alejandro Fernandez has fired-up the stage with his electrifying showmanship, not only delighting Latin audiences but tugging the heartstrings of Latin music fans all over the world. With several milestone albums and an unbroken string of hit singles to his name, Alejandro Fernandez is one Latin America's brightest stars. No wonder, tickets are highly in demand. Fans are definitely dreaming of a memorable evening of being serenaded with their all-time favorite songs by such an impassioned singer and charismatic performer Don't let this wonderful moment pass you by. Follow your heart, and get those tickets as quickly as you can. It will surely be worth your while.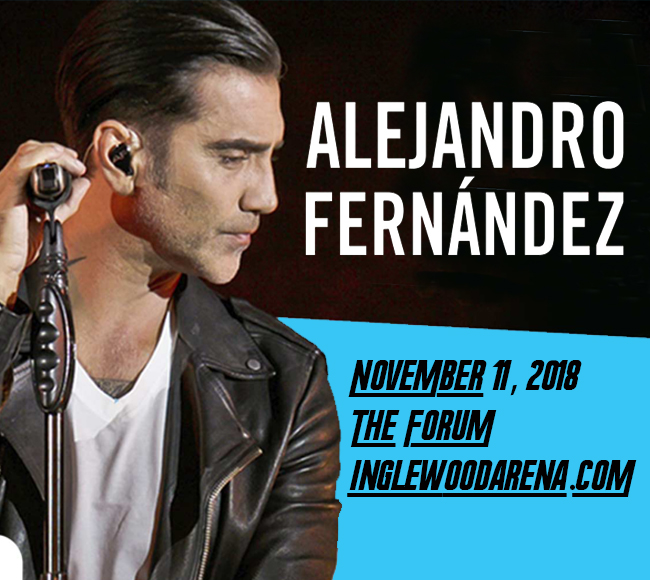 For an artist who has sold over 30 million albums worldwide, expect nothing less than a devoted fan following for one of the most celebrated Latin artists of the world. Alejandro Fernandez is a Mexican Bolero/ Latin pop and Mariachi musician from Guadalajara, Jalisco. Highly influenced by his father, a Ranchera singer named Vicente Fernandez, Alejandro had an initial onstage exposure at age 5. His initial foray as a professional recording artist began at age 21 when he released his self-titled debut album. His eponymous debut album steadily climbed the Billboard Regional Mexican Albums chart, then peaked at No. 53. The album featured the carrier and follow-up singles "Necesito Olvidarla" and "Brumas." The release of his second album captured not only the attention of fans but of music critics as well. Allmusic gave it a four-star rating and peaked at No. 5 on the charts. Three featured singles from the album, namely "Piel De Niña," "Cascos Ligeros" and "Acabe Por Llorar", were mainly responsible for the fan raves and positive reviews. His third studio album, "Muy Dentro de Mi Corazon," even got higher ratings — 4.5 stars from Allmusic "Si Dios Me Quita La Vida," "A Pesar De Todo" and "La Enramada," are just a handful of songs that earmarked Alejandro Fernandez's credibility as not-your-average-flash-in-the-pan sensation. It highlighted his artistry and propelled him to superstar status.
Nicknamed "El Potrillo" also known as "The Colt," Alejandro projects a charismatic yet electrifying appeal onstage. He commands the stage like a smooth operator who can create an atmosphere of sheer brilliance and warmth affection. 'Feel good' may be an underwhelming word to describe his show, but that's how Alejandro Fernandez affects and touches the hearts of his audience.