The Kia Forum | Inglewood, California
The name A$AP Rocky grabs a lot of attention and can elicit immediate action. One of the fastest rising rap artists of his generation, A$AP Rocky quickly amassed legions of followers. Hence it would come as no surprise that his current tour, dubbed as 'Injured Generation' will be an instant sold-out concert as he makes a touch down for a one-night-only show at The Forum on Thursday 31st January 2019. As his moniker implies, fans are quick to the draw in laying their hands on those highly in-demand tickets to his show. Really bad decision to play the waiting game. Booking a ticket is what you ought to do, a.s.a.p. ! on Thursday 31st January 2019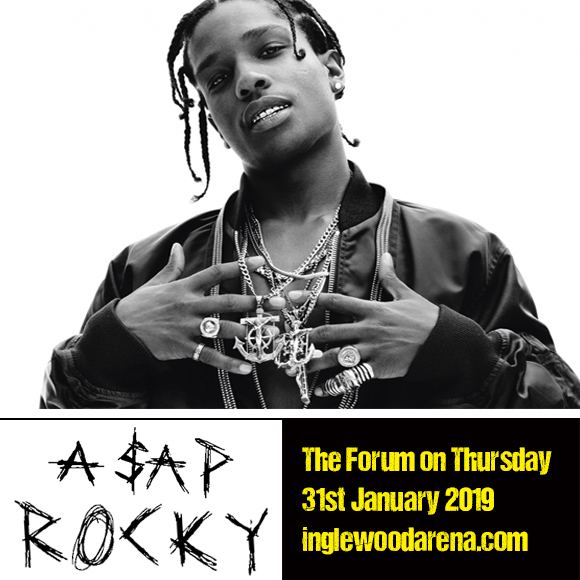 You may think that A$AP Rocky may have achieved success overnight. At the young age of 26, he is touted as a renaissance man of modern Hip-Hop. He is an American rapper, songwriter, record producer, actor, and owns his own fashion clothing line. He has the world at his feet, with an enormous number of fans who propelled his career to dizzying heights. "Purple Swag," "Goldie" and "Peso," are just some of his coveted singles from his career encompassing 21 singles, 17 music videos, and three promotional tracks.
Touring is always a crucial aspect of his career. Hence, his latest tour 'Injured Generation' will take him to an 18-city trek.
"It's a significant point and time in my career. I have a lot of artists that are signed to me — big superstars, rockstars. I'm in other fields within my career. But I needed to circle back and show them this is where it started. This is the origin of my legacy and why I really do this shit."
So what does the "A$AP" in A$AP Rocky stand for? It is an acronym for different things he stands for, and here are three:
"Assassinating Snitches and Police," "Always Strive and Prosper" and his favorite, "Acronym Symbolizing Any Purpose."
For his rabid fans, it's always that knee-jerk reaction to score tickets, and yes, it could not be emphasized enough that with such high demand for tickets, booking one needs to be done a.s.a.p. !