The Kia Forum | Inglewood, California
The crowd-favorite sports and comedy group from YouTube, Dude Perfect, is hopping on an action-packed tour. The 'Panda-Monium Tour' will bring the YouTube sensations Tyler Toney, Cody Jones, Garrett Hilbert, and twins Coby and Cory Cotton who altogether make Dude Perfect a family, to action-packed venues across the country. Produced by Premier Productions, the tour will cover 24 cities next summer, including a special show at The Kia Forum on Saturday, 15th of July 2022. Don't miss out on "laugh-out-loud antics" and crazy battles as Dude Perfect takes over the live stage at the Panda-Monium Tour by booking your tickets now!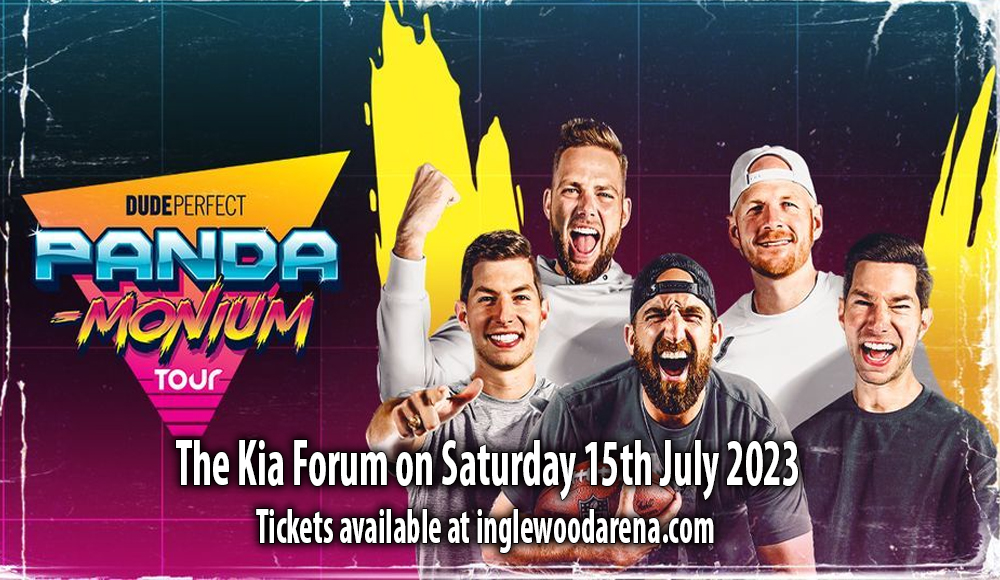 From five college friends to a national favorite group of sports and adventure aficionados, Dude Perfect has become a global YouTube sensation for their crazy antics and action-packed family-friendly content. The comedy sports stars are embarking on a tour called "Panda-Monium" where they promise "laugh-out-loud antics" and "crazy, trick-shot themed battles".
"We can't wait to get back on the road and see your smiling faces for our brand-new 2023 Pandamonium tour!," member Coby Cotton shared in a press release. "We have some awesome new surprises in store for this tour and we can't wait to meet you all in person."
The tour follows the group's elevated momentum as they just joined Amazon's Thursday Night Football broadcast, and news of new headquarters. As 2023 sparks bigger surprises in store from Dude Perfect, the live tour will feature the most popular segments from their acclaimed "Overtime" series such as Cool Not Cool and Wheel Unfortunate with Ned Forrester.
What started as a group of college friends posting a video of trick shots at Tyler Toney's house on YouTube, the group quickly rose to global fame as Dude Perfect. Moreover their trick shot-perfect videos, the group has set various world records including the longest basketball shot, highest basketball shot, and longest sitting basketball shot, among others. They also have other world records including the longest Lego walk and having the most Ping Pong balls stuck on a person's head with shaving cream.
From eye-turning sports tricks to crazy hilarious antics, Dude Perfect has become an acclaimed family-friendly act that won the hearts of adventurous beings around the world.
"We are PUMPED to roll out a brand-new tour! The 2023 Dude Perfect Pandamonium Tour will include fan favorites like Wheel Unfortunate with Ned Forrester, Cool Not Cool, crazy stunts, and all-new battles! Who knows, Coby may even pull out a win here or there (but probably not)." Tyler Toney adds in a press release.
With over 58 million subscribers and over 16 billion YouTube views since their first video 13 years ago, the inseparable college roommates have stayed true to their mission of exploring the impossible through a love for sports, adventure, and laughter.
"Dude Perfect's tours have been such a joy for our team to be a part of," tour producer Brian Reese shared. "Creating a space for families to relax and laugh together, kids to see and meet their heroes…"
Don't miss out on the one and only Dude Perfect, live on stage at the 'Panda-Monium Tour' 2023 by booking your tickets now!