The Kia Forum | Inglewood, California
The English singer-songwriter who won the hearts of listeners all over the world from his One Direction days to his solo career, Harry Styles, is back to turn up the love at the "Love on Tour". Set to release his much-awaited third studio album "Harry's House" on May 20, the global heartthrob is bringing this new era to life as he performs at The Kia Forum on Monday, 31st of October 2022. Harry Styles just recently shared his newest single "As It Was", a powerful and emotional track that gives fans a glimpse of "Harry's House". Come experience 'Harry's house with the crowd at the Love on Tour by booking those tickets now!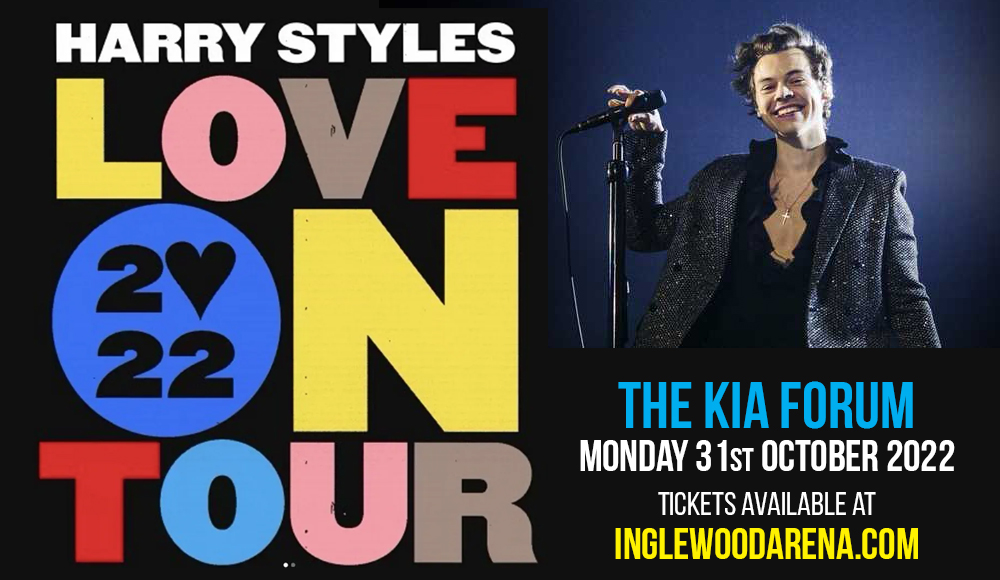 Global heartthrob Harry Styles has caught the attention of fans across the globe since the breakout of one of the best-selling boy bands of all time, One Direction. His cheeky smile, gorgeous hair, and soaring vocals all won the hearts of audiences worldwide. After One Direction made an indefinite hiatus in 2016, Harry continued to do what he does best – sing and win hearts.
From singing and performing smash pop hits including "Best Song Ever", "Live While We're Young", and "Story of My Life" with One Direction, Harry embarked on a journey of adding a blend of rock to his solo work. His solo debut single "Sign of the Times" took the world by storm, hitting #1 in the UK and #4 in the US, with Rolling Stone claiming the song "as the best song of 2017".
His self-titled debut album reflected Harry's growth and maturity, producing a distinct sound from his previous pop work with One Direction. The record exudes a style of 70s soft rock, Variety saying it's "a classic cocktail of psychedelia, Britpop, and balladry".
In 2019, Styles released his sophomore album "Fine Line", amassing a slew of hit singles including "Adore You", "Falling", "Golden", and "Watermelon Sugar". The album was included in Rolling Stone's list of the "500 Greatest Albums of All Time" in 2020.
Apart from his mesmerizing smile, distinct sound, soaring vocals, and way with words that get fans hooked on his craft, Harry Styles also caught the eyes of fans with his gender-bending fashion statements. With outfits that scream color and the distinct use of pink in his iconic photoshoots, Harry challenged stereotypes and influenced great expression through clothing.
Vanity Fair said that Harry transformed from "boy-bander" to "luxury suit connoisseur". In an interview with Rolling Stone, Harry quotes Paul Simonon saying "Pink is the only true rock & roll colour". He wore a Gucci gown on the cover page of Vogue's December 2020 issue, met with some conservatives' remarks, Harry expressed "To not wear [something] because it's females' clothing, you shut out a whole world of great clothes" and that "what's exciting about right now is you can wear what you like" as lines "are becoming more and more blurred".
With a mesmerizing smile, a handsome face, lyrical hooks, matched with soaring vocals, and strong fashion expression, Harry's live shows bring it all to the stage with thousands of fans cheering and singing along to his best hits and crowd-favorite tracks.
With his new single "As It Was" giving a taste of Harry Style's upcoming album "Harry's House", fans are in for big surprises, fresh new songs, and a whole lot more from Harry at the Love on Tour. With his new single described as "a fearless leap into a new era" by Rolling Stone, don't miss out on Harry's new era coming to life at The Kia Forum on October 31st. Book your tickets now!