The Kia Forum | Inglewood, California
It's time to get your #HSLOTOutfit ready 'cause the Kia Forum becomes Harry's House this November on a 15-night live show trek! Harry's Style's highly acclaimed Love On Tour just announced new tour dates, including this 15-night show stop at The Kia Forum. Catch Harry Styles bringing Harry's House to life at the iconic venue on Wednesday, 2nd of November 2022. His new chart-topping album features his hit singles "As It Was" and "Late Night Talking". The 'golden boy with his outfits that become a surprise at every show is pumped up to see his fans sparkle in their #HSLOTOutfits, and all together sing and celebrate at Harry's House. Book your tickets now!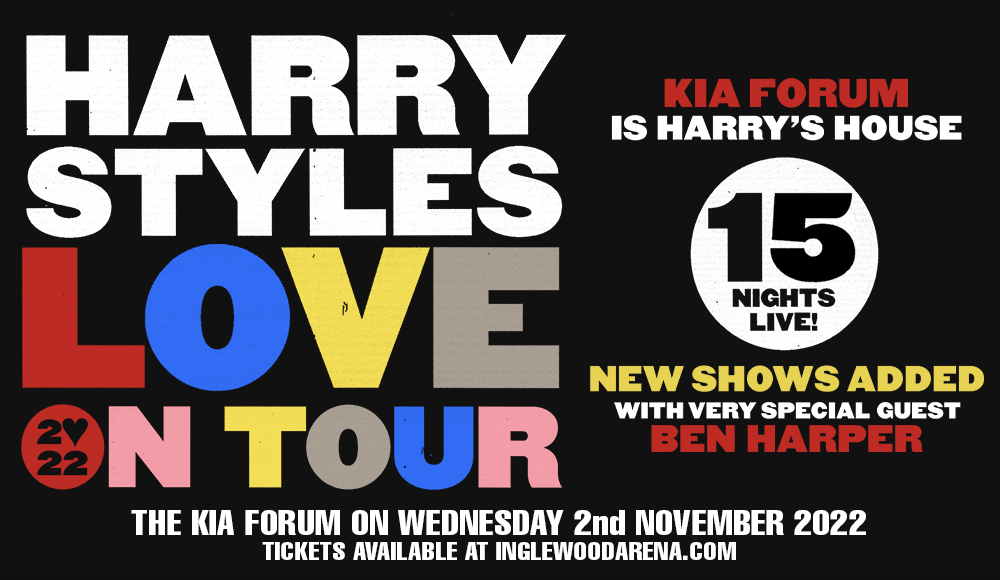 With his new record "Harry's House" welcoming fans into the singers' arms through lyrical tales that feel like home, Harry Styles has kickstarted the Love on Tour in support of the new album which features his chart-topping hit single "As It Was". 10 weeks in the top spot of the Hot 100, "As It Was" makes Harry Styles the 10th artist of Columbia Records to do so – the most among every record label in the chart's history.
More than his alluring tales and amazing live vocals, every Harry Styles concert is a unique experience for fans to connect with the beloved singer. The dynamic performer jumps right on stage with his flashy gender-bending fashion statements, sings and dances his heart out, and most especially takes some time to connect and engage with his fans, often giving them heartfelt advice.
The first run of the Love On Tour was a huge success, creating a revolutionary concert experience where fans march to the concert venue, creating a flamboyant trail of color and unique fashion statements inspired by the singer. Since September of last year, fans have taken Instagram, Twitter, and TikTok by storm using the hashtag #HSLOTOutfit.
As the North American leg of the tour kickstarts this August, the man is wrapping up the trek with a 15-night lineup of shows at the Kia Forum in Los Angeles.
It's a one-of-a-kind festival-like experience at every Harry Styles concert where fans are free to express who they are, knowing that they have Harry's support, and his melodic tales to keep them getting through.
Emerging into the scene as one of the best-selling boys bands of all time's beloved member, Harry Styles began his solo career in 2016, releasing his powerful debut solo single "Sign of the Times" in early 2017 – ranked by Rolling Stone as 2017's best song.
Harry Style's sophomore record "Fine Line" bagged a slew of hit singles with "Lights Up", "Adore You", "Falling", "Watermelon Sugar", and "Golden" – all receiving Platinum certification from the RIAA, most of which have multi-platinum certifications already.
With his newest album "Harry's House" out and about topping the airwaves, it's time to get your outfits ready, check in the #HSLOTOutfit hashtag, and experience a one-of-a-kind festival-like concert experience with Harry giving it his all on stage. Book your tickets now!