The Kia Forum | Inglewood, California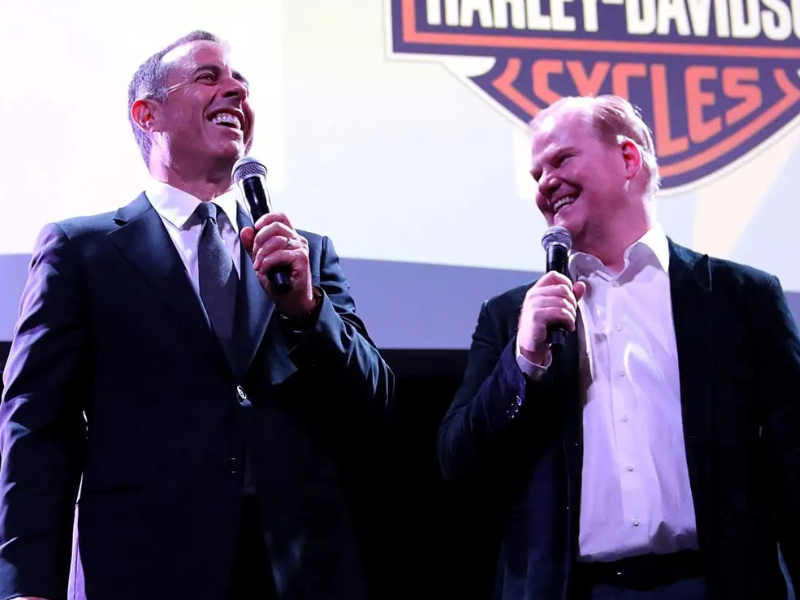 Two luminaries of American comedy are bursting their way to Inglewood! Revolutionary duo Jerry Seinfeld and Jim Gaffigan are set to co-headline a special show at The Kia Forum on November 4th later this year! You may be familiar with the pair as they appeared in the talk show "Comedians In Cars Getting Cofee," where they initially co-starred together. Now, for the first time ever, they are finally teaming up for a joint, side-splitting stand-up arena tour that will cover four dates in the biggest US cities! This fall, witness a bunch of comedy heavyweights at one of the most influential live venues in the whole of California - The Kia Forum - known for presenting only the best acoustics and cutting-edge effects on stage! All you folks out there, this is your sign to catch these goofballs for a guaranteed whacky and wholesome time! Reserve your seats by snagging a ticket or two today.
Comedy geniuses Jerry Seinfeld and Jim Gaffigan are scheduled to perform live standup at The Kia Forum on Saturday, November 4th this year!
Starting a day before the mentioned event, the joint four-show stand-up tour will begin on November 3rd at the Chase Center in San Francisco, to be followed by stops in Los Angeles, and Chicago before wrapping up at the Enterprise Center in St. Louis.
Prior to their paired performances in November, both comedians have a considerable number of shows already lined up ahead. Seinfeld has a series of show dates booked extending into the summer and through the fall season, while Gaffigan's performances are set to begin at the end of August, with his website specifying that he'll be presenting fresh material.
This news arrives as Seinfeld prepares for the release of his much-awaited Netflix comedy "Unfrosted: The Pop-Tart Story," which is set to feature guest stars Gaffigan, Melissa McCarthy, James Marsden, Hugh Grant, and much more! Meanwhile, Gaffigan is scheduled to premiere his tenth stand-up special that comes out within the year.
In a recent interview, Seinfeld shares his first meeting with his comedic partner as well as how he is excited to team up with him in this upcoming tour. "Jim and I met doing Comedians in Cars Getting Coffee and have been talking about doing this for years. We finally made the schedules work out." Seinfeld mentioned, according to The Hollywood Reporter. "I'm so excited to help out this unknown up and upcoming comedian who many may have never heard of. I know it will be an amazing bunch of shows." Gaffigan continued to joke in a statement.
Jerry Seinfeld is named by critics as one of the greatest comedians of his time, with a rep for entertaining audiences through the form of witty observations of the mundane ever since he stepped up to the mic almost fifty years ago. His career peaked when he produced his global smash sitcom "Seinfeld," in which he starred as an outlandish version of himself.
On the other hand, seven-time Grammy nominee and New York Times bestselling author Jim Gaffigan boasts a more clever comedic style as he works with more relatable topics like parenthood and food, which granted him a quick rise through the comedy ranks along with the help of his TV Land series "The Jim Gaffigan Show."
The Kia Forum is the only astonishing multi-purpose indoor arena in Inglewood, California that offers a superior viewing experience for fans and casual viewers alike! Come over to laugh your socks off as the duo cracks the most relatable jokes in this top-tier venue with great acoustics. Purchase your tickets today!