The Kia Forum | Inglewood, California
He's got a heart-crushing new album out and about sending tears across the world, and a matching tour in support of his new record. After releasing his highly-anticipated new album, SMITHEREENS, Joji also announced spring tour dates, presenting 'SMITHEREENS OBLIVION', including a stop at The Kia Forum on Saturday, 13th of May 2023. Since 2017, the 88rising act has been admired by listeners worldwide for his strikingly emotional lyrical tales and soaring vocals in his hit singles "Slow Dancing in the Dark", "Yeah Right" and "Sanctuary". Giving a glimpse of the new album earlier this year, Joji's finally taking it live on stage. Book your tickets now!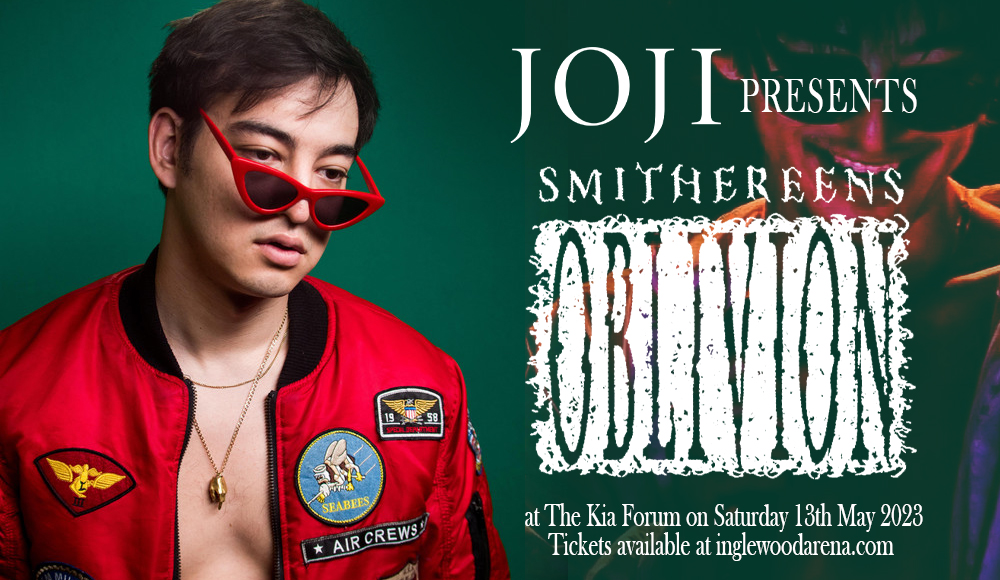 The 88rising crowd-favorite act, Joji, just released his third studio album "SMITHEREENS" last November 4th. The new record features his 2022 global hit single "Glimpse of Us" which sent listeners and TikTok videos to tears for its lovelorn lyrics, emotional melody, and Joji's striking vocals. The album is a follow-up to his critically-acclaimed sophomore record, Nectar, in 2020. Fresh from a successful run of his SMITHEREENS Tour, Joji's taking the new record on a live show run at "SMITHEREENS OBLIVION".
Hailing from Osaka, Japan, George Kusunoki Miller settled in the US at the age of 18. He rose to fame for his silly YouTube comedy acts as Filthy Frank and Pink Guy. In 2018, he put a halt from comedy citing his health conditions and loss of interest in the acts. From a pink comedy character loved around the globe, a surprise came crashing in as the world soon found his new persona, Joji, breaking into the scene with lovelorn lyrics and powerful vocals that hit the feels.
2017 marked the year when he signed with 88rising, dropping his first singles "I Don't Wanna Waste My Time", "Rain on Me", and "Will He". Soon after, Joji released his breakout hit single "Slow Dancing in the Dark" which rose to global airwaves, bagging a 2x RIAA Platinum certification. More of his hit singles and crowd-favorites include "Run", "Gimme Love", "Test Drive", and "Sanctuary".
A follow-up to his highly-acclaimed 2020 record "Nectar" which featured "Run" and "Gimme Love, Joji just released his new album "SMITHEREENS" last November 4th of 2022. The album includes his early 2022 hit single "Glimpse of Us" which sent TikToks and Reels to tears for its vulnerable and crushing lyrics and melody backed by Joji's emotional vocals.
The album features two sides of Joji's musical direction, SIDE A explores his familiar and mature, and wistful ballads featuring alluring production that comes to life in every track. SIDE B is mostly produced by Joji himself, and takes listeners back to his humble beginnings with lo-fi beats.
The man also just released a music video for the third track of his new album, "Die For You", a track that takes you to memories of a former love. Featuring deep-rooted sentiments on moving on, the track is yet another strikingly emotional masterpiece from Joji.
"I heard that you're happy without me. And I hope it's true. It kills me a little. That's okay, 'cause I'd die for you," he sings.
Make sure to save your favorite tracks off of SMITHEREENS to your playlists and save your spot at the SMITHEREENS OBLIVION at The Kia Forum on May 13th by booking your tickets now!