The Kia Forum | Inglewood, California
The world-renowned Mexican rock band making waves as one of the best-selling and most successful Latin-American band across decades, Maná, is back to hit the stage at The Forum on Friday, 22nd of April 2022. The rockers are known for their Spanish sung pop-rock hit singles such as "Como Dueles En Los Labios", "Mariposa Traicionera", "Labios Compartidos", "Hasta Que Te Conocí", and many more. "We have so many surprises in store for our fans… Get ready to see [us] like never before" the band said as they embark on a series of shows at The Forum. Hailed as one of the most influential Latin rock bands ever, you can't miss out on this chance to catch the legends perform crowd-favorite hits across decades live on stage. Book your tickets now!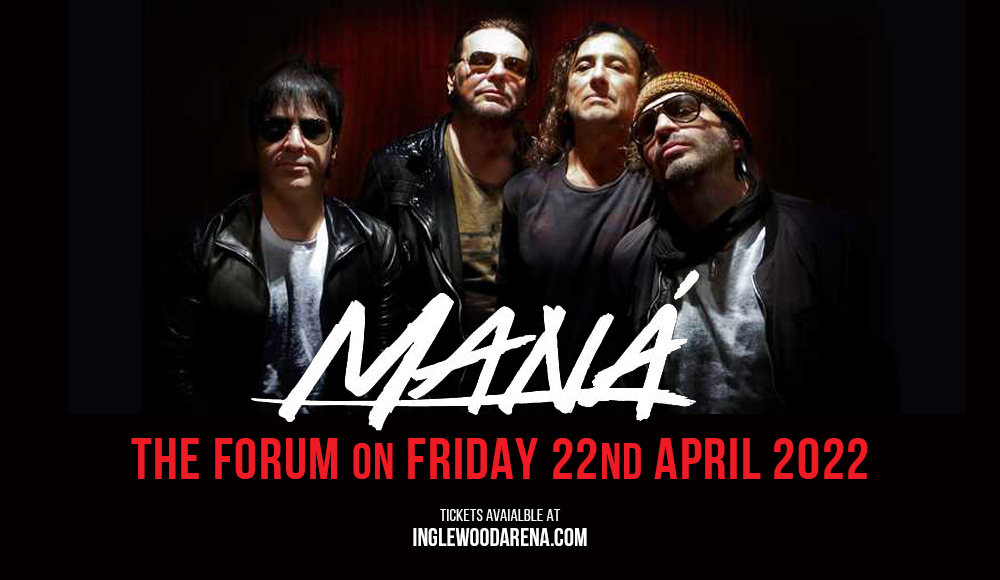 As one of Mexico's long-time favorite rockers, Mana entered the scene in 1986. What might have been a rough start as "Our record label told us there was no future for the band," says the band's drummer Alex Gonzales when their former label tried telling them that "rock en español was just a fad, trying to convince them to switch to another style. Over 30 years later, Mana proves them wrong as they propelled to be one of the most influential Latin rock bands to exist, with 9 studio records, and 7 of which are certified platinum.
In 1992, the band dropped their 2nd album "¿Dónde Jugarán Los Niños?" that featured hit singles "Oye Mi Amor", "De Pies a Cabeza", and "Vivir Sin Aire" among others, sold beyond three-million copies making it the best selling Spanish-language rock album all time, certified 12x Platinum in the US. From there on, Mana proved to the world that Spanish rock is here to stay. Over the last 30 years, the band continued to drop hits after hit across 9 albums in their discography.
From their breakout hit ""Rayando El Sol" in 1990, the world soon found themselves head over heels for the Mana's catchy and magnetic tracks with following hit singles such as "Mariposa Traicionera", "Manda Una Señal", "Si No Te Hubieras Ido", "Mi Verdad" (featuring Shakira), and so on as they years passed by.
They've also won various awards and recognitions ranging from Billboard Latin Music Awards, Grammys, Latin Grammy Awards, Los Premios 40 Principales, MTV VMA Latin America, and more!
Current members include Fher Olvera as lead vocalist and guitars, Alex Gonzales on drums, Juan Calleros on bass guitar, and Sergio Vallin on guitars who all bring the stage to life as they take fans across decades of the best Latin rock and Spanish hits. Timeless, is what Mana is, as fans can never get enough of one of the best-selling Latin-American bands of all-time.
"Get ready to see [us] like never before" the band says as they are set to perform a series of shows at The Forum. As 2022 comes rising, Mana is set to conquer the stage and bring out their best, all for the fans who can't get enough of their phenomenal hits and crowd-favorite tracks. So, book your tickets now!