The Kia Forum | Inglewood, California
The legendary and highly acclaimed multi-award-winning Mexican rock band hailed as the most successful and influential Latin-American band to exist with Spanish-sung lyrics that took over the world by storm, Maná, is set to perform a series of shows at The Forum in LA. "We have so many surprises in store for our fans at this residency, …no two shows will be the same" says the band. Catch them take over the stage on Saturday, 25th of June 2022, performing their greatest hits and fan-favorite tracks such as "Como Te Deseo", "No Ha Parado De Llover", "Como Dueles En Los Labios", "Labios Compartidos", "Mariposa Traicionera", and many more live on stage at The Forum. With over three decades of taking the world by storm through irresistible and magnetic Spanish-sung hits, you can't miss out on this chance to see the one and only Maná perform live. So, book your tickets now!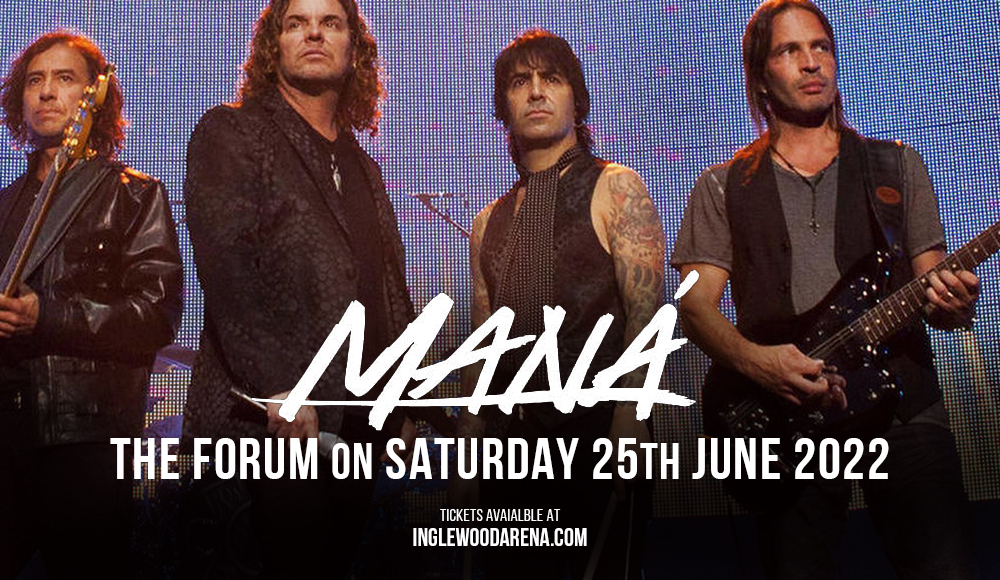 "Rock en español was just a fad" Mana's first label said as they tried to persuade them to shift their sound in the late 80s. By 1990, they made the switch and signed with Warner, then releasing their second studio record "Falta Amor" which featured their first hit single "Rayando el Sol".
From then on, Mana took over the world by dropping Spanish-sung hits after hit such as "Se Me Olvidó Otra Vez", "Ángel de Amor", "Manda Una Señal", "Si No Te Hubieras Ido", and much more up their sleeve over the past three decades. They marked history as the best-selling and most successful Latin-American band to exist, selling over forty million records around the globe.
Mana has 4 Grammy Awards, 8 Latin Grammys, 19 Billboard Latin Music Awards, and much more various awards and recognitions throughout their lifetime. Current members include its lead vocalist, Fher Olvera, Alex Gonzales on drums, Juan Calleros on bass, and Sergio Vallin on guitars.
"We've been doing this 30 years, so to suddenly stop [due to the pandemic] isn't easy," says vocalist Fher Olvera. "But I kept saying, 'Don't worry. We're going to put together a great show…" as the band is set to kickstart its residency at The Forum in LA.
"Los Angeles has been like our second home, we call it the house of rock" Olvera said. Surely, fans of the legendary band are excited to catch Mana bounce back stronger than ever, performing a series of unique shows. We are amped to get back on stage in the City of Angels and want our fans to feel the same." says the band.
Over three decades of astounding Spanish-sung timeless hits and crowd-favorites over 9 studio records, hailed as the most successful and influential Latin American band ever, Mana is surely back stronger than ever to give fans a night to remember. Book your tickets now!