The Kia Forum | Inglewood, California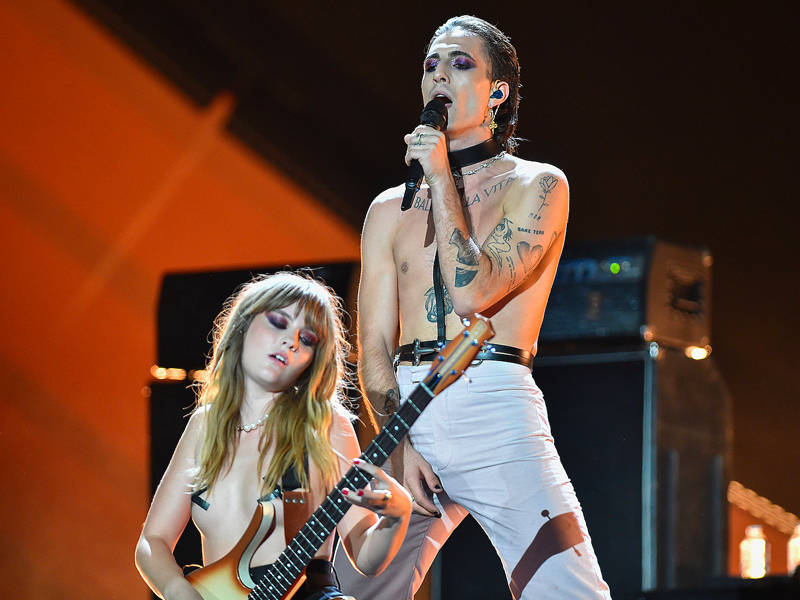 You'd be Beggin' for more rock tunes this October 10 as the Italian rockers Maneskin brings their "Rush! World Tour" to The Kia Forum. This isn't Gossip! Kia Forum will be one of the destinations of the internationally acclaimed band. The iconic California venue will become a haven for thousands of fans singing along to the Damiano David-led band. If you are a fan of Maneskin's unique blend of alternative glam and hard rock, then you are in for a treat on this fateful Tuesday evening. Sing along to "The Loneliest," "Beggin'," "I Wanna Be Your Slave," "Supermodel," "Coraline," and many other hits. Get hold of your tickets as early as today and let the signature hooky riffs and big, thumping choruses of Maneskin's songs bring euphoria to your dull Tuesday night. Tag all your Kool Kids friends along, and be one of the lucky fans to see the band in person. Tickets are now on sale, and you can get yours here by hitting the "Get Tickets" link.
Maneskin is a stylish and exuberant rock band from Italy. The band's members are known for their long hair, androgynous fashion, and their hard-hitting rock. To most people, they are known for winning the Eurovision Song Contest in 2021. After that, they became viral on social media. The band is known for breaking stereotypes in the rock scene with their gender-bending looks and progressive lyrics.
Manekin's beginnings can be traced back to 2015. The then-high school students Damiano David, Victoria De Angelis, and Thomas Raggi decided to form a garage band. While looking for a drummer on Facebook, Ethan Torchio joined them. They officially went public in 2016 as they named the band Maneskin (translated as Moonlight) and joined a music festival called Pulse. For this competition, they began writing their own songs and performing in front of a big audience. With strong charisma and talent, they won. After this, they started busking in the streets of Rome.
In 2017, the band joined X Factor Italy season 11. Their potential was imminent from the get-go. As they moved on with the stages of the reality TV competition, they covered songs like "Beggin'" by the Four Seasons and "Somebody Told Me" by the Killers. They ended their stint as the second placer of the season. In November of that same year, their debut single, "Chosen," which they performed in the competition, came out. An ERP followed a month after, named after the single.
Garnering considerable following while in the competition, they released their Italian single "Moriro da re." It was a commercial success and warmed up their audience to the release of their debut album "Il ballo della vita." The album topped the charts. In 2019, they moved to London to refine their style and make new music.
In 2021, they competed in the Sanremo Music Festival, in which the winner will represent Italy in the prestigious Eurovision Song Contest (where Celine Dion and ABBa once won). They won with their original song "Zitti e buoni." The 2021 edition of Eurovision was set in Rotterdam, Netherlands. They bested other European Union countries and brought back to Italy the Eurovision win after 31 years. They became a European sensation afterward. Out of nowhere, their cover of "Beggin'" started to draw attention on social media. Later on, their influence reached US listeners. This led to multiple TV appearances in the US. In 2023, their third album, "Rush!" came out. This release brought them their first nomination for the category Best New Artist in the Grammy Awards.
Maneskin is currently on tour for their "Rush! World Tour." They will be performing at the Kia Forum on October 10. Get tickets now!