The Kia Forum | Inglewood, California
There's no need to darken your clothes or strike a violent pose as you jam along with My Chemical Romance's comeback concert this Monday, October 17, 2022, at The Forum, Inglewood, California. The iconic rock band is now back on the road, and there's no stopping Gerard Way and his bandmates from giving you one of the best performances they'll have in recent memory. After being pushed back several times, the "Welcome to the Black Parade" hitmakers are finally here to rock the punk and emo out of their loyal fans. No matter how old you are, there's no irony in singing "Teenagers" when you are in a My Chemical Romance concert! So grab your tickets now and just Sing it out … sing it for the world!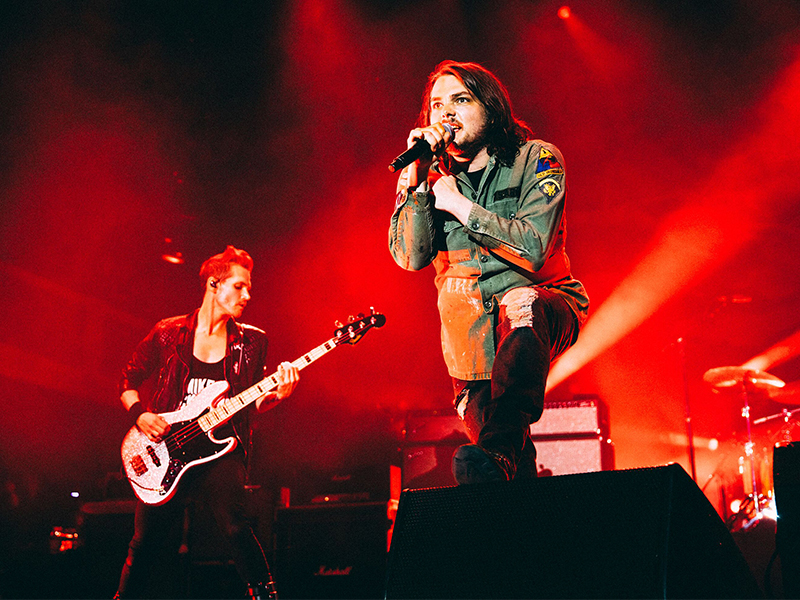 Perhaps one of the most influential punk rock bands to come out of the 2000s emo era, My Chemical Romance has proven to be bigger than the theatrics and the macabre drama that most emo bands of that time presented. The band, led by the frontman Gerald Way, gave the rock 'n roll world songs full of depth and lyricism that is almost poetic in nature. The Edgar Allan Poe-ish lyrics presented in the theatrics and instrumentations that appeal to a massive audience have captured fans worldwide. Their alter-ego band, The Black Parade, became a global hit that propelled them to a pedestal that only a few bands have stepped on.
Their hit songs, "Helena," "Na Na Na (Na Na Na Na Na Na Na Na Na)," "I'm Not Okay (I Promise)," "Sing," "Mama," "Teenagers," "Planetary (GO!)," "Welcome to the Black Parade," among many others have proven to transcend beyond punk, rock, and emo genres. These songs, and many others, helped the band garner countless wins and nominations from reputable award-giving bodies such as MTV Awards, Grammy's, AMAs, MTV Asia Awards, and Kerrang! Awards, to name a few.
Indeed the band is a trailblazer in the punk rock scene. That is why millions of fans were saddened when the band announced its break-up in 2013. However, the band made an exciting announcement of a reunion tour last 2019. It was a massive hit for the band who, after a six-year hiatus and nearly two decades of emo punk rock music, still knows how to rock and entertain an audience in a "My Chemical Romance-kind-of-way!" The success of their 2019 tour prompted the band to announce another tour for 2020. But due to the pandemic, the band had no other choice but to cancel the tour. They were also set to headline at the Aftershock Festival last year along with Limp Bizkit and Metallica, but only Metallica was the one to make it.
Now there's no stopping MCR from giving their fans what they desire: A concert performance worthy of a two-year's wait. You can catch the boys in their Inglewood, California stop for their 2022 tour. So make sure to grab your tickets as early as possible because this will surely run out soon!