The Kia Forum | Inglewood, California
Hate the holidays? You're not alone, and you're in great company as Ozzy Osbourne is out to smash the holiday spirit and usher in the new year with a louder bang with Ozzfest! Indeed, this sonic barrage is all set to rock The Forum on Monday 31st December 2018. This year's Ozzfest will unleash the loudest, raunchiest, and wildest all-star line-up — Ozzy Osbourne, Rob Zombie, Marilyn Manson & Jonathan Davis. Mere mention of these names alone will send those rock revelers into a state of frenzy to scour for tickets. Start the year with a crash, boom, bang! Be there as the headbanger's ball drops on metal music's finest hour. Don't' miss it!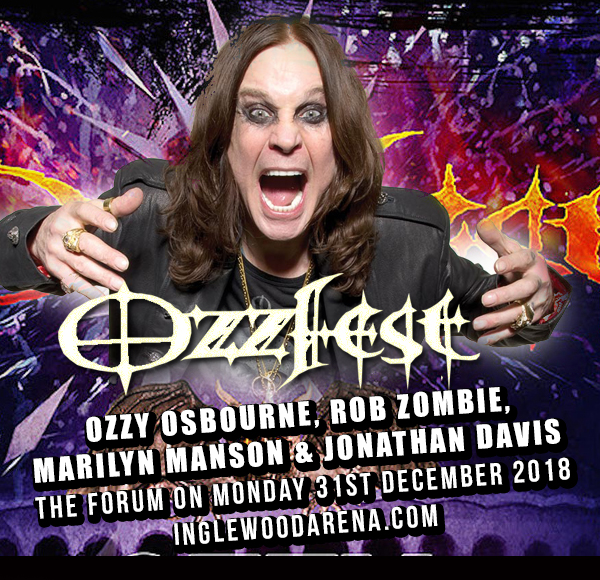 If the holidays make you go and say–Bah! Humbug!, And so does Ozzy Osbourne. "He hates Christmas and he hates New Year's Eve," says Sharon Osbourne. "He always saying, 'Let's do a gig.' And I'm always like, 'There never is one.' So this year, we said, 'All right, let's do an Ozzfest, because we never did it this year,'" Sharon tells Rolling Stone. "Everybody used to play on New Year's and Christmas in the Seventies and Eighties, but not anymore. So it's the perfect time."
You heard it right. Ozzfest is dropping the metal ball this 31st December 2018. Ozzfest main man Ozzy Osbourne will be the headliner act along with his court rock metal royalty –ROB ZOMBIE, MARILYN MANSON, and Jonathan Davis (of KORN), along with the Ozzfest debut of BODY COUNT featuring Ice-T. BLACK LABEL SOCIETY, fronted by Osbourne's guitarist Zakk Wylde; plus four other bands to be announced soon.
Still, on the road to recovery from multiple surgeries due to a staph infection in his finger, Ozzy Osbourne is raring to get out there and keep making history year after year, in the 20-year span of mounting Ozzfest. This is the first national music festival of its kind dedicated to hard rock music. Over the years Ozzfest has become 'the' stage where the most revered rock artists perform; and a metalheads' paradise–a place where only the true rock fans indulge in manna from the rock gods themselves.
There's no other place to get your fill of metal rock music. Beat the clock and beat the mob, willing to sacrifice life and limb for precious Ozzfest tickets. No time to waste, get your tickets now!