The Kia Forum | Inglewood, California
A band that needs no introduction, Phish are heading to The Forum on Friday 22nd July for a night of mind blowing, improvised music and stunning visuals! The masters of jamming will once again immerse the crowd, taking fans on a tripped-out journey through their illustrious career, with surprises at every turn! Don't miss the chance to see these legendary melody weavers live!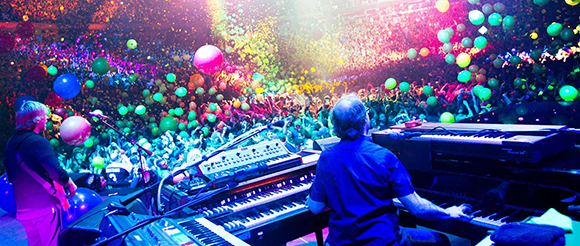 Phish is a jam band from Vermont, consisting of Trey Anastasio, Mike Gordon, Page McConnell and Jon Fishman. The band is known as a forerunner of the jam band scene, and fuses together a mixture of musical genres including funk, progressive rock, psychedelic rock, folk, country, jazz, blues, bluegrass and pop. In the more than twenty years that they have been performing, Phish have developed a huge and loyal following, similar to that of the Grateful Dead, through their improvised shows, which they allow fans to record and share for their own personal use. They have released thirteen studio albums over the years, and toured ceaselessly for two decades before taking a five year hiatus. They reformed in 2009 have been playing live shows regularly ever since.