The Kia Forum | Inglewood, California
Are you ready for the show of the century?? That's right, none other than the legendary QUEEN are back, with Adam Lambert leading the show in the footsteps of the great Freddie Mercury! This incredible show comes to The Forum on Friday 19th July 2019 – do NOT miss it!! Grab your tickets now and get ready for an astonishing spectacle at Inglewood's premier music venue!!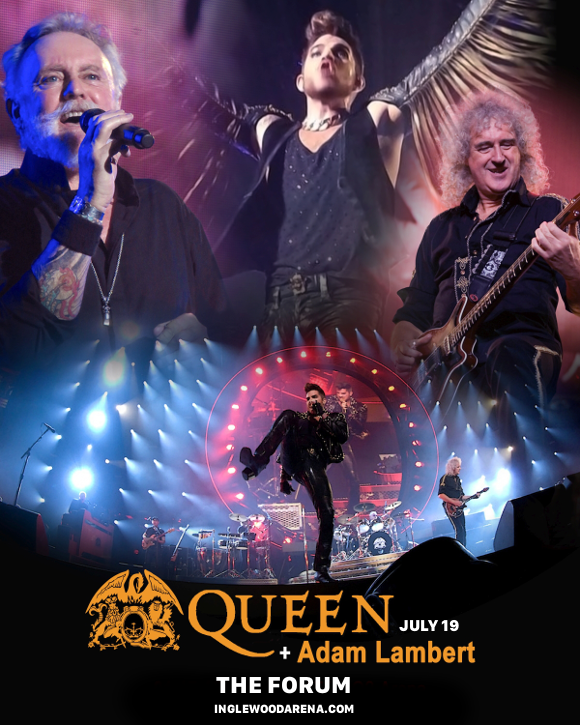 Few bands in the world can claim to hold a legacy quite like that of Queen's. Formed in 1970 of guitarist Brian May, drummer Roger Taylor, bassist John Deacon and singer, pianist and frontman, the late Freddie Mercury, Queen started in a more progressive rock vein, but quickly broke into the mainstream when they began to incorporate more radio-friendly elements into their work. Within their first four years together, they had hit the UK charts, but it was their 1975 album "A Night at the Opera" that brought the band international fame and success, with the single and music video for "Bohemian Rhapsody," staying at number one in the UK for over two months, and changing the face of music consumption as we know it today by bringing the music video format to the mainstream.
Today, Queen are widely regarded as one of the greatest and most important bands ever to have existed, having influenced countless artists who came after them as well as the shape of pop music today. Their live show with Adam Lambert is more than just a tribute to their legacy – its an electrifying show in its own right. Tickets will FLY for this – get your tickets NOW!!