The Kia Forum | Inglewood, California
MASSIVE news – the Queens Of The Stone Age are back on the road with a brand new album! The "Villains," tour will take them to The Forum on Saturday 17th February 2018 – stoner rock fans can't afford to miss it! Tickets expected to sell out FAST, so don't delay! Get yours NOW!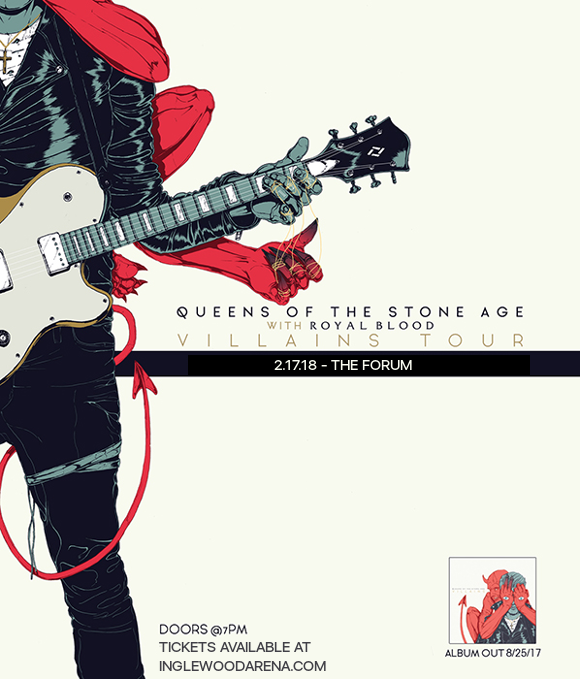 The new Queens Of The Stone Age Album, "Villains," is the product of an unlikely alliance between the band and producer Mark Ronson – more well-known for his work with artists such as Amy Winehouse, Bruno Mars, and Adele.
"There's this perception that there's no musical overlap between us and Mark, but, in reality, there's a stunning amount," guitarist Josh Homme said, dismissing any concerns over the pairing. "We wanted this album to be tight like an early ZZ Top record, and he is so beat-centric, we knew he would help us keep the rhythm section tight and dense."
Turns out, the band were only too right to make that decision. Mark Ronson's on-point production has made for the tightest, most danceable Queens Of The Stone Age record yet, an album that sounds fresh and upbeat whilst remaining clearly true to its rock n' roll roots.
Get in that crowd and prepare to be treated to all of the new songs from "Villains," live in addition to the classics you know and love! What are you waiting for?? Get those tickets NOW, they aren't going to last long!!