The Kia Forum | Inglewood, California
Singing "mummy don't know daddy's getting hot….", the undeniably slayin' singer-songwriter and queer icon, Sam Smith, is gearing up for his newly-announced GLORIA The Tour in support of his forthcoming new album. They also recently shared the new record's title track, to which they describe as their "Queer Love Hymn". The tour includes a special stop at The Kia Forum on Friday, 1st of September 2023. As the album hits the shelves on January 27th, fans are itching to hear the album in its entirety after its viral hit, "Unholy" with Kim Petras, made waves worldwide. Save your spot at GLORIA The Tour by booking your tickets now!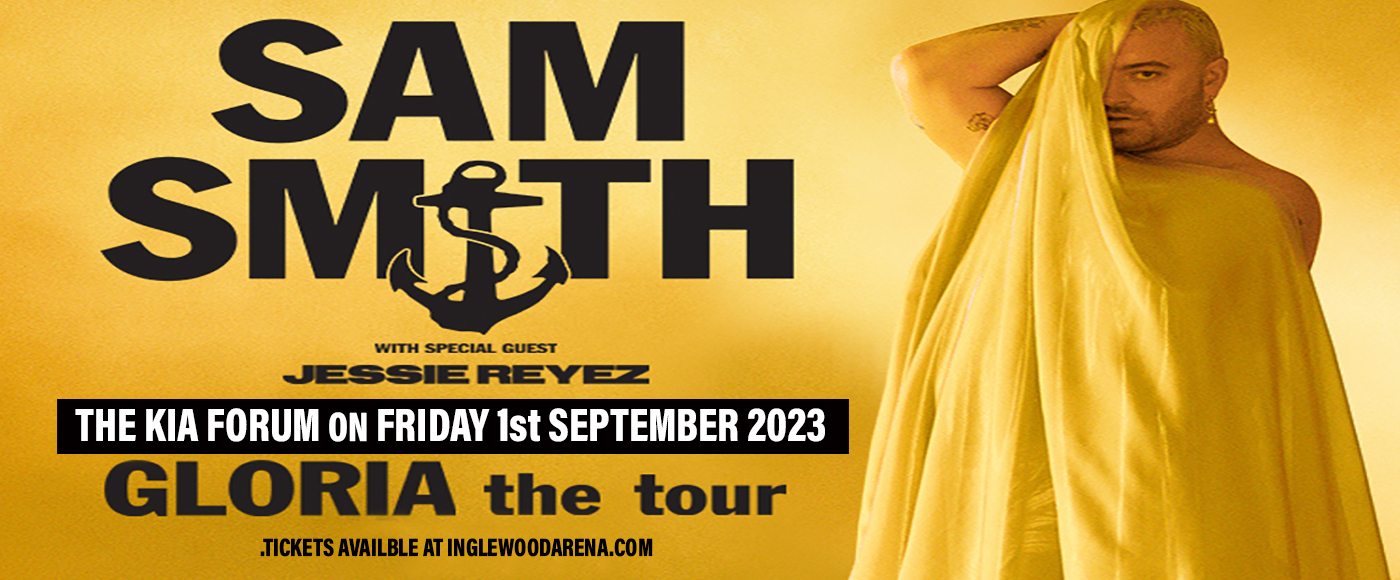 Finding his breakthrough with successful features on Disclosure's "Latch", Sam Smith subsequently released "Lay Me Down", the first single off of their debut album "In the Lonely Hour". With the album "all about unrequited love", citing inspiration from personal experiences, Sam Smith's singles propelled to international success for their hard-hitting reliability and emotional delivery. These multi-platinum hits include "Stay with Me", "I'm Not the Only One", "Like I Can", and "Lay Me Down". Through years of dropping emotional masterpieces that sent tears across the pacific ocean, Sam Smith is dropping his fourth studio record "Gloria" on January 27th.
"I'm feeling overwhelmed and emotional as I start to let go of Gloria and hand this work over to you," they shared about the upcoming album. "It has been magical in every way to make this piece of music, and by giving this record to you, I am giving you part of my heart and soul."
Gloria features Smith's previously-released singles "Love Me More" and the Certified-Platinum #1 viral hit single "Unholy" with Kim Petras.
Four albums into a beautiful and emotional journey of four Grammy Awards, three BRITs, an Oscar, and over fifty-billion streams across different platforms, Sam Smith is definitely one of the world's biggest and proudest queer singer-songwriters to watch out for. As Gloria makes its way to hit the shelves real soon, Smith is gearing up to deliver a slayin' set of shows throughout the year.
"I'm starting to prep now, really." they told Billboard as they start rehearsals for the tour by March. "I'm starting to watch what I eat, what I'm drinking, starting to move my body more, train my voice, just getting ready for the year ahead."
As a follow-up to their RIAA Awarded-Platinum 2020 album "Love Goes", Gloria is set to bless airwaves globally as the queer icon graces through tracks that never fail to hit hard with its lyrical tales. Describing its title track as their "queer love hymn", Smith describes life "is a song to Gloria, the thing I can't put a word to. I don't know if it's nature or a feminine energy inside me that I'm setting free."
As Sam Smith gears up for a big world tour kicking off later this year, make sure to save your spots before they run out! Get ready for a night of Sam Smith's biggest anthems and hymns to a slayin' life by booking your tickets now!