The Kia Forum | Inglewood, California
K-Pop boy band SEVENTEEN is back, shining brighter than ever as they embark on the Be the Sun: World Tour, in support of their new fourth album, "Face the Sun". The boys are calling all Carats to shine and join them in this new era as they hit the stage at The Kia Forum on Wednesday, August 17th, 2022. You can expect SVT to perform their biggest hits and sizzling new tracks fresh off of "Face the Sun", including their hottest new single "Hot". So, the stage is calling all Carats to celebrate, sing, and raise those lightsticks at SVT's Be the Sun: World Tour. Book those tickets now!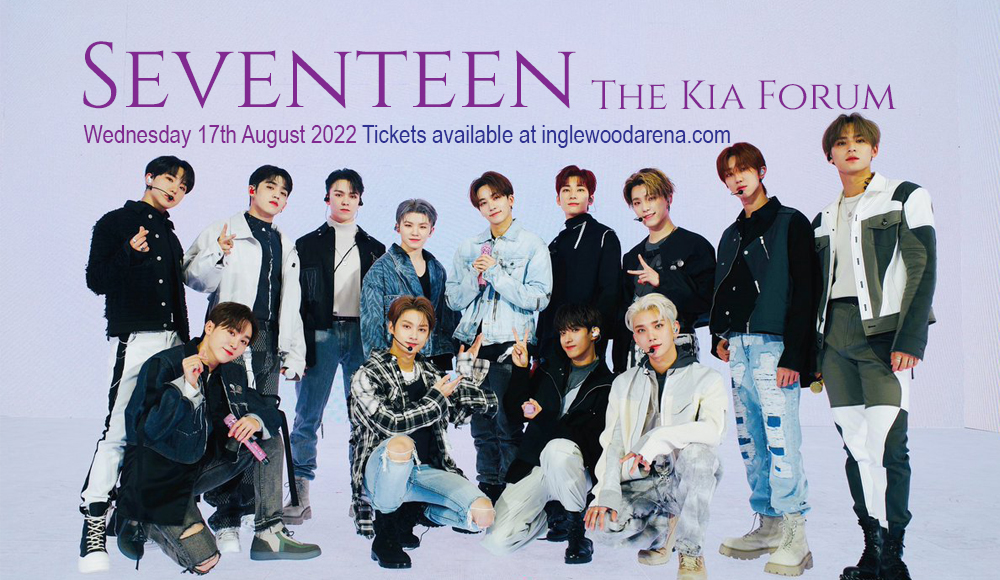 SEVENTEEN members S.Coups, Jeonghan, Joshua, Jun, Hoshi, Wonwoo, Woozi, DK, Mingyu, The8, Seungkwan, Vernon, and Dino have shined their way to become one of the most loved K-Pop acts known for their own craft as they actively take part in their songwriting and choreography. They've been hailed as "Performance Kings" and "K-Pop Performance Powerhouse" by various publications.
There's no denying the boys' talent since their 2015 debut. Their debut EP, 17 Carat, was the year's longest-charting K-Pop album in the US, the only rookie record to feature in the "10 Best K-Pop Albums of 2015" list by Billboard.
In 2016, SVT dropped their debut studio album, Love & Letter, featuring their singles "Pretty U" (예쁘다)" and "Very Nice" (아주 NICE)". They won their first win with "Pretty U" on a music show. They garnered local success and further charting on Japan's Oricon Weekly Pop Album Chart.
2017 marked SVT's breakthrough with massive local success and their first world tour. Their fourth EP Al1 peaked at #1 locally in South Korea, featuring its hit single "Don't Wanna Cry". In November of the same year, they released their second album, "Teen, Age" with its single "Clap".
From then on, SEVENTEEN continued shining brighter and brighter with more and more Carats across the world falling in love. In 2018, Time magazine placed SEVENTEEN in their six best K-Pop groups to know list.
Their succeeding hits and fan-favorite tracks include "Oh My!", "Getting Closer", "Home", "Left & Right", "Home;Run", and many more.
In January of 2021, SVT guested on The Late Late Show with James Corden, performing "Home;Run" from their special album Semicolon. In just one day, their performance reached over a million views on YouTube. In the same month, they performed "Left & Right" on The Kelly Clarkson Show.
With their fourth studio album "Face the Sun" freshly released last May 27th, SEVENTEEN is set to shine even brighter in this big new era. In an interview with Rolling Stone, S.Coups said "So far we've always been really sincere and honest with our music, but I think especially with this upcoming album, we're very frank and showing our honest heart."
Hoshi adds that the new record is ""hot and passionate."
As the world opens up for live music with a live crowd, SVT is set to meet their US Carats altogether, live on stage, at their Be the Sun: World Tour. Catch SEVENTEEN perform their biggest hits and hot new tracks at The Kia Forum this August 17th. Book your tickets now!