The Kia Forum | Inglewood, California
Get your hearts ready as your favorite bias from the world-renowned South Korean boy band BTS, Suga, or Agust D as he is known for his solo work, is coming to you live in LA at The Kia Forum on Wednesday, 10th of May 2023. The acclaimed rapper, songwriter, and record producer is taking the stage for his first solo tour world tour. The SUGA Agust D Tour marks history for the BTS member as the first to embark on an extensive solo tour. The trek will take place in the US and wraps up in Japan. With two mixtapes up his sleeve, new music is highly anticipated as the artist launches his first-ever world tour. Don't miss out on Suga or Agust D's historical solo tour by booking those tickets now!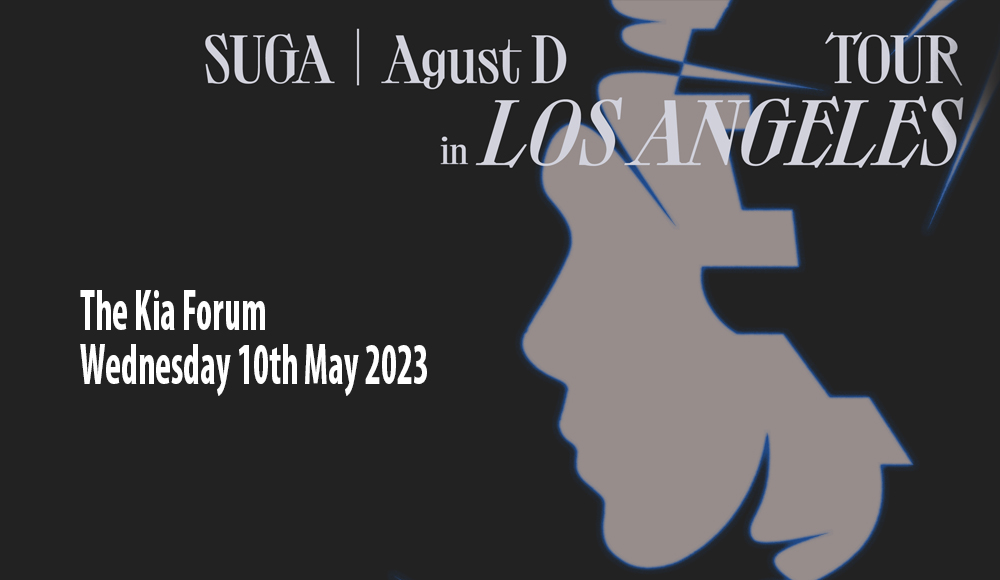 Without a doubt, Suga is an undeniably talented member of the globally acclaimed South Korean boyband, BTS. The rapper is known for his rapping skills and record-producing talent. As a big name in the Korean pop, hip-hop, and R&B stage that rose to global recognition, Suga is taking his solo craft to the big stage on his first-ever solo world tour. The man will embark on his very own SUGA Agust D Tour, marking history as the first of his bandmates to do so.
The SUGA Agust D Tour will be taking multiple stops across the US, and Asia, and then setting foot at his home base in Seoul before wrapping up in Japan later this year. As ARMYs around the globe rush to get their hands on tickets, many fans clamor for more dates and stops as their bias makes history at his first solo tour.
SUGA released his first self-titled mixtape "Agust D" in 2016, offering for free on SoundCloud. He released tracks that expressed tales of depression and social phobia. In 2018, the rapper re-released his mixtape to streaming platforms, hitting #3 on Billboard's World Albums Chart. The record featured his hit singles "Give It to Me", "The Last", "So Far Away" featuring Suran, and "Tony Montana" featuring Yankie.
Fuse shared that the mixtape highlights SUGA's "ear for hot productions, hardcore rap style, and how he can make his vulnerabilities a strength". Following the success of his first solo release, fans and critics alike praise SUGA's raw honesty and artistry that challenges and tears down walls of censoring and sugarcoating in the industry.
In 2020, Suga dropped his second mixtape "D-2", a follow-up to his debut record. "The recording was done on a tight schedule, in the last two or three months of 2020, but I'd started working on the beats and the basic groundwork right after the first mixtape came out, in 2016," SUGA shared in an interview with Vogue.
"After completing the track 'People' around October 2016, I thought, 'Oh! I've reached the stage where I can write a song like this'."
SUGA's "D-2" hit #11 on the US Billboard 200 albums chart. The mixtape includes his biggest solo hits such as "Daechwita", "Strange" featuring RM, "People", "Dear My Friend" featuring Kim Jong-wan, and "Moonlight".
With a massive solo tour coming up, new music is a question that remains to be answered by the man himself. As the BTS member's first-ever solo tour, big surprises can be expected leading up to the live launch of SUGA Agust D Tour. Don't miss out on your bias' historical tour by booking those tickets now!