The Kia Forum | Inglewood, California
The official announcement of a Tears for Fears & Garbage concert at The Forum on Saturday 4th June 2022 is no small thing. It's a big and exciting event that TFF fans have been raving about since the phenomenal pop-synth duo dropped their first single "The Tipping Point", the title track from their upcoming album slated for a February 2022 release date. "The Tipping Point World Tour" is keeping fans on the edge of their seats as they can hardly wait to hear Tears For Fears do what they do best — render electrifying live renditions of their colossal hits like "Mad World", "Everybody Wants To Rule The World", "Shout", "Head Over Heels", "Sowing The Seeds of Love" and many, many more! Songs from the new album will certainly be one of the highlights of this show as this is the first time Roland and Curt would unleash their live versions of "The Tipping Point" and the emotionally gripping new single "No Small Thing". With all the anticipation and excitement going around, this is one hot ticket that you need to grab as quickly as you can. Get your tickets now!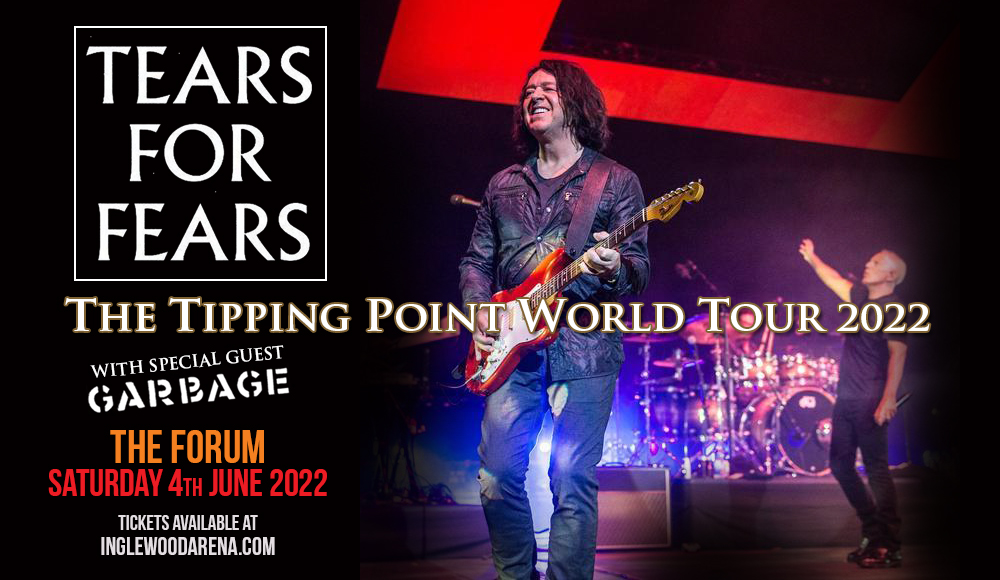 After announcing their first record in 17 years, Tears For Fears are not yet done in giving their fans massive excitement. They just released details of The Tipping Point World Tour, which includes US tour dates in key cities and states — their first time again since 2017. "We couldn't be more excited to start playing concerts again," Curt Smith said. "We've missed seeing our friends on the road around the world and the energy of performing live."
Tears For Fears are not only formidable live-performing artists, but they still are one of the most relevant and most listened to artists in this day and age of digital music streaming and social media. The fact is, Spotify ranked them as the #1 most streamed artist from the 80s. Tears For Fears' phenomenal discography has also been recently honored at the prestigious 2021 Ivor Novello Awards. Roland Orzabal and Curt Smith were present with the Outstanding Song Collection Award that recognized their 40 years of exceptional creativity and longstanding influence in music.
Tears For Fears also has confirmed the release of their new album which took 17 years for them to complete. "The pandemic itself has spawned a massive amount of creativity because we've all been locked up," said Orzabal. "We've been working on [the latest] album for seven years, but we finished it during lockdown because we had the space and felt the need, you know, so in that sense I think it'll have spurred more creativity. "And also, I think during a pandemic, especially during lockdown, you realise what's kind of valuable to you and I think that will spur more songwriting and more creativity as well."
A new album and a world tour — the perfect avenue and venue for fans to celebrate with classic TFF songs and revel in the gripping sounds of their new material on the live stage. "The Tipping Point has been a long time in the making and we are looking forward to playing our favorites from the new album as well as our classics from throughout the years," Roland Orzabal adds.
The massive build-up of excitement results in fast-moving tickets. Lock in your tickets now!