The Kia Forum | Inglewood, California
Isn't it such a thrill to watch a concert where you know every song and everyone else is wildly singing along? This is what's in store for you in TobyMac's 'Hits Deep Tour'. Christian hiphop / rap artist TobyMac will dazzle audiences with his exciting showmanship, and also connect and inspire them with songs that speak deeply into their souls.
His touring schedule shows that he is just about everywhere; but thank your lucky stars for he is due to hit this side of town on the 27th of February 2016, Saturday, at The Forum. TobyMac's concerts have a track record of heavy attendance, so better save a seat or two for you and a friend, or better yet, take the whole gang or your family with you. Get those tickets now!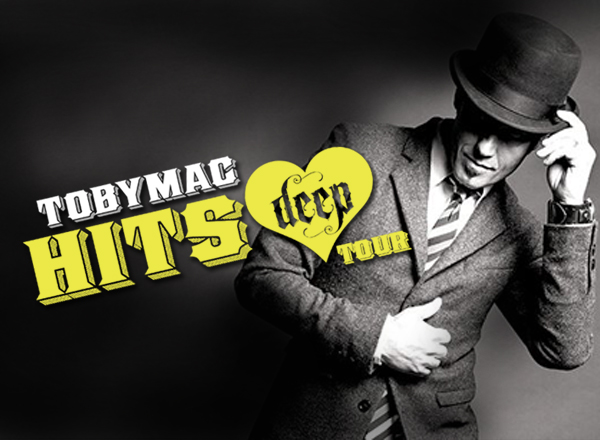 "Lights shine bright, everywhere we go. Music for the people, making music for the people…"
This is exactly what TobyMac has been doing all these years — standing up on stage with all the bright lights and making music not just for fun, but for touching lives and inspiring souls through his music.
TobyMac is known for his dynamic live showmanship. He is currently on the road, hitting the live concert circuit with a tour dubbed as the 'HITS DEEP TOUR'. And TobyMac delivers what he promised.
"This tour is going to be exactly what most people want to see when they go to a concert – a show where you know every song," says TobyMac. "Big hits that hit deep! Not just hits because they are sonically a good listen, but because they've spoken deeply to our souls. These artists are all headliners in their own right, but we've come together to serve up the hits that have become a part of people's lives."
This tour will definitely add another feather to his cap. From 1987 to 2001, he was one of the members of the Christian-pop vocal trio called DC Talk. When the group went into hiatus, TobyMac pursued a solo career. To date, has collected over 20 chart-topping singles on Billboard's Christian song list. He has sold over 10 million albums and has been
awarded with 6 Grammy Awards. In between his busy career as recording artist, record producer, and concert performer, TobyMac is also an author. He has penned five books that have focused on topics like Christian martyrs and stories on spiritual battles.
If you think that Christian music could only be enjoyed during church services, TobyMac will definitely make you change your mind. Be prepared to be blown away! Hurry, get your tickets now!