The Kia Forum | Inglewood, California
5 Seconds of Summer comes to The Forum on Wednesday 7th September 2016
You cannot say the name of 5 Seconds of Summer without an ear-splitting fan girl shrill afterwards. This power pop-rock band from the land down under has zoomed their way up music charts and landing straight into the hearts of teenage fans all over the world.
Their globe-trotting tour schedule is creating global 'fandemonium'. As the band is sparking major excitement, fans are burning to get their hands on fiery-red hot tickets to their shows. No, you cannot let this one get away. The heat is on, the hunt is on! Get in on the action and secure your seat, grab those tickets now!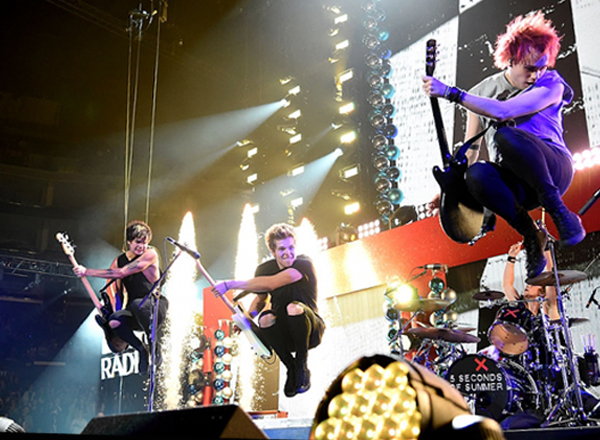 Internet sensations and viral or social media superstars will either make it or break it. One band who definitely made it with flying colors is 5 Seconds of Summer (commonly abbreviated as 5SOS) . Four college friends, namely Luke Hemmings – lead vocals, rhythm guitar. Michael Clifford – guitar, live keyboard, vocals, Calum Hood – bass guitar, vocals, and Ashton Irwin – drums, keyboard, vocals, were just a bunch of dreamers who began posting their cover versions of songs on YouTube. Soon enough, they were attracting a growing number of viewers that evolved into a horde of fans. Their videos also caught the eye of major label Sony ATV Music Publishing. However all hell broke lose, so to speak, when One Direction member Louis Tomlinson posted the link to their YouTube video of their song "Gotta Get Out"; then fellow 1D member Niall Horan also tweeted the link to the video clip "Out of My Limit".
In 2013, 5SOS shared the stage with One Direction as opening act. Their following wasn't just a shared set of fans from One Direction. 5SOS was quickly building and expanding their very own fandom. They are a relatively new band, yet they are starting to get a lion's share on chart positions. Their biggest hits include "She Looks So Perfect," "Don't Stop," "Amnesia," "Good Girls," "What I Like About You," and "She's Kinda Hot."