The Kia Forum | Inglewood, California
Almost Acoustic Christmas RETURNS to bring you the very best in alternative Rock music, so fans get ready for the night of your life! 2016's line up is bigger than ever with the EPIC; Blink 182, Kings Of Leon & Jimmy Eat World! Catch all of this LIVE at The Forum on Saturday 10th December 2016! Tickets are on sale now but won't be for long… it's about to kick off!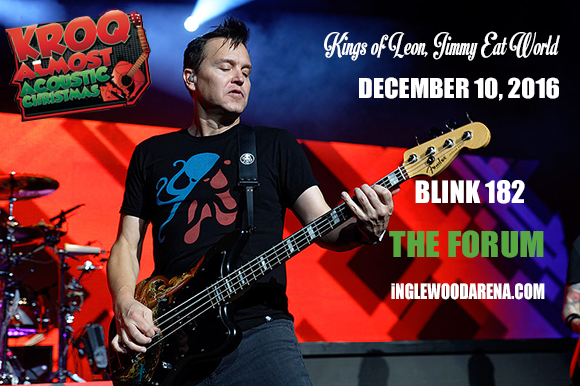 Blink-182 were instrumental in bringing pop punk to the mainstream and developing it as a genre. Formed in 1992, in Poway, California, a suburb of San Diego, the band started out under the name Blink, and was founded by guitarist and vocalist Tom DeLonge, bassist and vocalist Mark Hoppus, and drummer Scott Raynor. Their debut album, Cheshire Cat, was released in 1995 and lead to their their name change to Blink-182!
After Raynor's departure in 1998 – he was replaced by Travis Barker. Their following two albums, Enema of the State and Take Off Your Pants and Jacket, were the band's most commercially successful, catapulting them into the mainstream.