The Kia Forum | Inglewood, California
Taking the Christian airwaves by storm since 2010 with "Give Me Faith", Elevation Worship has been serving powerful worship anthems that never fail to ignite faith, hope, and love in believers' hearts. After two successful tour runs, Premier Productions and Elevation Church just announced the continuation of their Elevation Nights arena tour with Steven Furtick. Going over the west coast in this tour leg, Elevation Worship is set to lead praise and worship at The Kia Forum on Thursday, 3rd of November 2022. With their newest album "LION" released earlier this year, you can expect the group to perform their worship crowd-favorite anthems and new lyrical tales of faith. Join thousands of believers lifting it all in faith at Elevation Nights by booking your tickets now!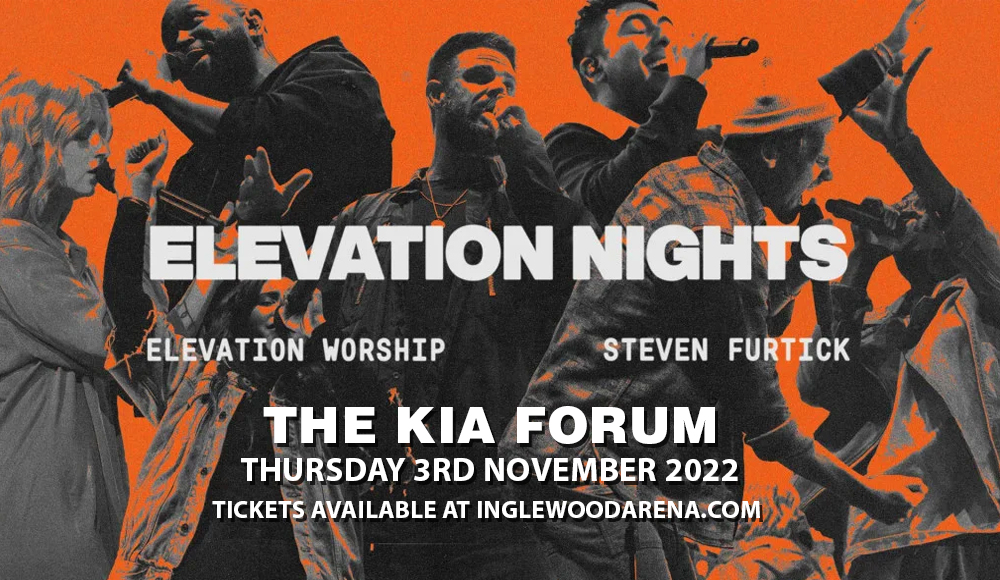 Premier Productions and Elevation Church are taking it even higher as they announce the continuation of their Elevation Nights Tour with Elevation Church founder, senior pastor, and Elevation Worship songwriter, Steven Furtick. The Elevation Nights Tour is coming over to the West Coast this fall – with its finale at the iconic Kia Forum in LA.
Having done worship shows in arenas all over the world, exalting God's name and igniting faith with thousands of believers gathered in huge venues, Elevation Worship is committed to the ministry of winning souls for Jesus since its formation in 2007. Singing their breakout hit "Give Me Faith" in 2010, the group has since then become a global worship crowd favorite in the contemporary Christian music scene.
With a slew of hit praise singles that never fail to strike the heart and get believers lifting their praises all out, Elevation Worship has yet again released their newest album "LION" which features their new worship anthem "Same God" feat. Jonsal Barrientes.
Set to resume the Elevation Nights tour this fall in the West Coast, Elevation Worship is pumped up to exalt His name once again in arenas where miracles happen as thousands of believers are gathered in one roof.
"We've been so excited to take Elevation Nights to the west coast for the very first time," shared Chris Brown of Elevation Worship. "These nights have become some of the most special times of ministry I've experienced. Gathering with thousands of others to have our faith inspired through worship, and hear a word from God through Pastor Steven makes these nights so much more than a concert. We can't wait to see how God moves each night."
Looking forward to bringing Elevation Nights to the West Coast, Jonathan Roberts of Premier Productions says "Coming off of some incredible highlights earlier this year including sold out nights in Newark, Chicago, and 14,000 strong in Columbus, OH, we are ecstatic to see what these nights will bring to each city."
With a heart-striking message preached by Steven Furtick and Elevation Worship's signature faith-igniting live performances, you can expect the group to bring their hit songs like "RATTLE!", "The Blessing", "O Come to the Altar", and their new anthems like "Same God" at Elevation Nights.
Inspiring believers and igniting faith across the globe, it is undoubtedly a special worship experience with thousands of brothers and sisters all together at Elevation Nights. The altar awaits. Book your tickets now!
"For where two or three are gathered together in My name, I am there in the midst of them." Matthew 18:20