The Kia Forum | Inglewood, California
Get those sparkling outfits ready 'cause Harry's inviting you to his house at The Kia Forum where he'll be bringing the Love On Tour with a 15-night series of shows at this iconic venue. With his new #1 record "Harry's House" dominating the airwaves, Harry Styles is set to bring his biggest hits and fresh new lyrical tales to life on this headlining tour. He's definitely 'golden as one of the most-loved artists of this generation sparked a movement at his shows where fans line up wearing eye-catching outfits expressing the color inside of them – inspired by Harry himself. So, get your #HSLOTOutfit ready for Harry's House at the Love On Tour at The Kia Forum on October 28, 2022 by booking your tickets now!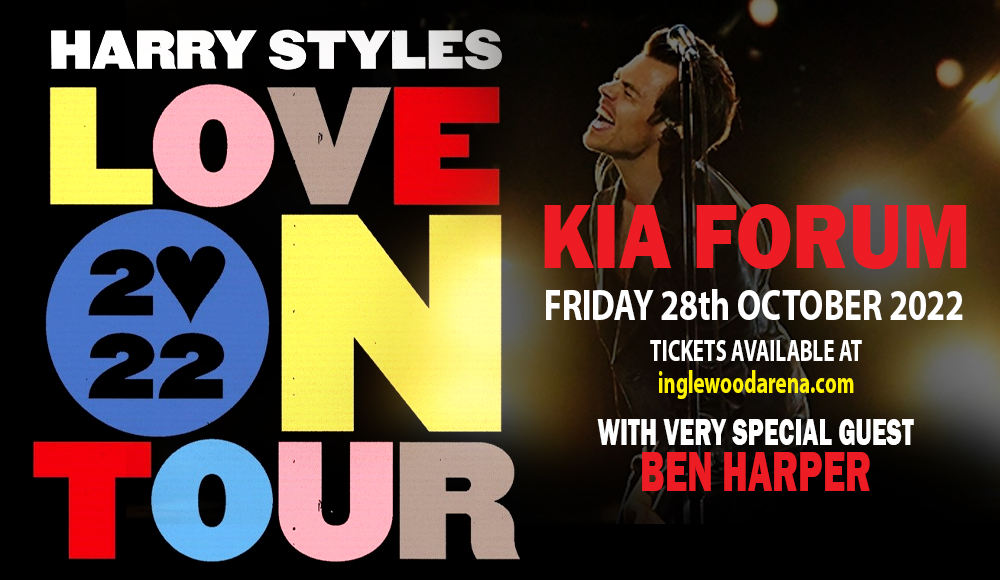 Welcoming fans to his new home with the release of his new #1 album "Harry's House", The Kia Forum is lighting up for 15 nights as it becomes Harry Styles' house, performing a series of shows as part of the Love On Tour in support of his new record. Featuring the chart-topping hit single "As It Was", Harry's House is now certified Platinum by various recording industry associations including the RIAA, ARIA, and BPI. The lead single also made history spending ten weeks at the top of the Hot 100, Harry being the tenth artist to do so under Columbia Records.
Known for his dazzling and gender-bending outfits, fans started a movement when the hashtag #HSLOTOutfit trended as fans took pictures of their unique and colorful outfits for the show – inspired by the mega pop star himself. From creating a movement of self-expression and care, Harry's shows have featured heart-fluttering and show-stopping moments including marriage proposals, shoutouts to mom and dad, lending the mic to a fan to sing for his girlfriend, a gender reveal party, and so much more!
Harry's live shows never fail to be a one-of-a-kind experience for fans to come together and celebrate Harry's music that has touched each and every one of their lives one way or another. New hits and crowd-favorites off of Harry's House include the multi-platinum "As It Was", "Late Night Talking", "Music for a Sushi Restaurant", "Daydreaming", "Satellite", and "Love of My Life".
Since launching his solo career in 2016, Harry took a different approach incorporating elements of soft rock to his new craft. From mega pop bops and cheeky anthems, Harry Styles began releasing tracks that bring in a character of soft rock power ballads. His first solo single "Sign of the Times". hit #1 in the UK and #4 on the Billboard Hot 100.
Since then, he released a slew of chart-topping global hits that has drawn fans to love his new style and direction over his three solo albums. His biggest hits and fan favorites include "Kiwi", "Lights Up", "Falling", "Adore You", "Golden", "Watermelon Sugar", "Fine Line", and "As It Was".
Moreover his pop and soft rock hits, alluring vocals, and captivating charm, Harry Styles made waves in the fashion landscape for his unique style and gender-bending outfits. With different takes on his flamboyant expression, Harry sparked a movement of self-expression among fans all around the world. Inspired by his values, fans have made #HSLOTOutfit trend as they line up wearing outfits that sparkle to his shows at the Love On Tour.
So, start getting your outfits ready for a visit to Harry's House at The Kia Forum where the Love On Tour takes over by booking your tickets now!