The Kia Forum | Inglewood, California
If you've not gone to many concerts this year – or you're just a bold soul – then this epic all0day concert, featuring no less than TEN incredible acts, will sort you out. The Forum is proud to present the first day of the Kroq Absolut Almost Acoustic Christmas 2018 two-day festival on Saturday 8th December 2018!! Featuring performances from the biggest names in rock and alternative music right now, including Thirty Seconds to Mars, the Smashing Pumpkins, Greta Van Fleet and more there's no other place to be for music lovers!! What are you waiting for?? Get those tickets now and get ready for the start of an unforgettable weekend!!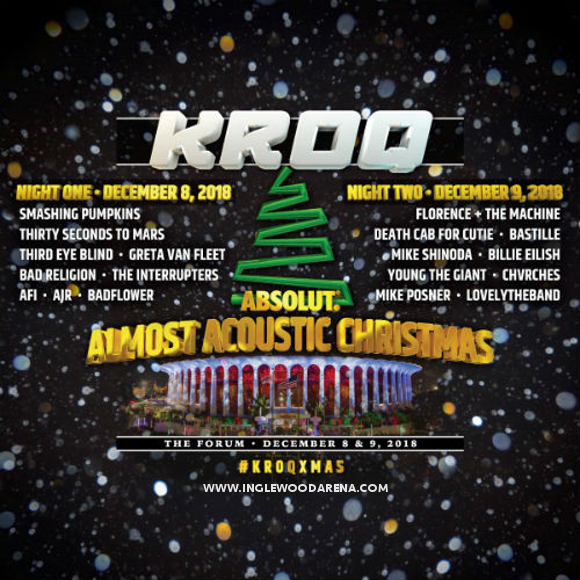 The Saturday line-up includes performances from the Smashing Pumpkins, Third Eye Blind, Thirty Seconds to Mars, Greta Van Fleet, AFI, AJR, Badflower, Bad Religion and The Interrupters. The Kroq Absolut Almost Acoustic Christmas is now in its 29th year, celebrating nearly three decades of providing a platform for the very best artists to showcase their sounds in one fantastic festive concert.
"We are so proud of Acoustic Christmas and its unprecedented 29-year history," said Jeff Federman, from Entercom. "This end-of-the-year holiday show is a special time for all of us in Southern California and we're pleased to support Para Los Niños and the Al Wooten Jr. Heritage Center this year. We are thrilled to deliver an incredible two nights of music where fans, brands and artists come together."
Don't delay – grab tickets now before they go!!