The Kia Forum | Inglewood, California
Ready for the most bangin' night of hot tunes and sick beats you've ever been to??? The Forum is proud to present Krush Groove: featuring legendary Bone Thugs N Harmony, the incredible Ja Rule and the amazing Ashanti!! Click the "Buy Tickets" button NOW to get your tickets to this sellout show, the get yourself down early to the Forum on Saturday 22nd April 2017! See you there!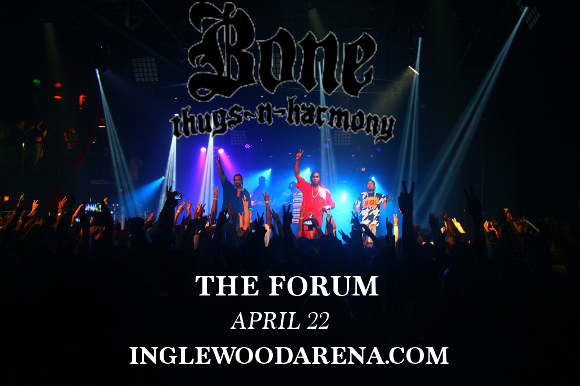 Hailing from Cleveland, Ohio, rappers Krayzie Bone, Flesh-N-Bone, Bizzy Bone, Wish Bone and Layzie Bone got together to form the ultimate hip-hop group, etching their signature sound from their very first EP "Creepin on ah Come Up," featuring their breakthrough single "Thuggish Ruggish Bone." They've been ranked twelfth on the "25 Best Rap Groups of All Time" list by about.com, and referred to as "the most melodic hip-hop group of all time" by MTV!!
In support is Jeffrey Bernard Atkins a.k.a Ja Rule. During the course of his 24-year long career, he's earned a string of awards as long as your arm, including four Grammys, and had SIX Top Ten albums, with "Rule 3:36" and "Pain Is Love" smashing the heights of the Billboard 200. Finally, we have the stunning R&B musician and actress Ashanti, whose first album, known for the hit single "Foolish," sold more than 500,000 copies in its first week of release. Her second was almost instantly certified platinum!!
It's a fantastic, chart-topping line up that promises to deliver a high-energy, full-on show and pounding beats that will leave your legs sore the next day!! So don't delay – grab your tickets now!!