The Kia Forum | Inglewood, California
Bringing two nights of melody and color to The Forum, Vermont-natives and jam-band heroes Phish return on Saturday 28th July 2018 to blow your mind! The cosmic foursome never disappoint with their ecstatic, improv-led grooves and incredible stage show! Whether you're a dedicated phan, or just a music-lover, this show will astound and delight!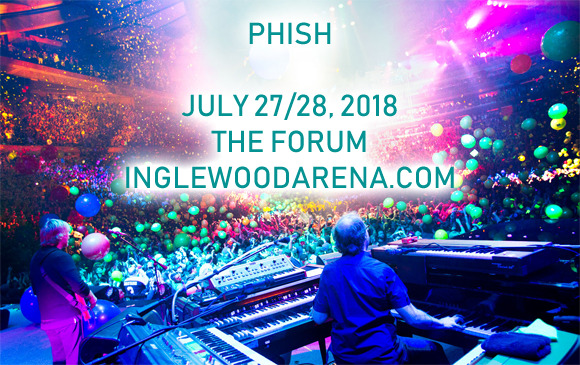 Phish are known for their unique music – a blend of jazz, folk, country, bluegrass, pop and many other genres, which creates an improvisational free-form sound that allows the spontaneity and collaboration in their live sets that make them such a popular touring band. Formed in 1983s at the University of Vermont, the band's current line-up of "Trey, Page, Mike, and Fish" has been performing together on-and-off for over thirty years and continues to sell out stadiums and amphitheatres year on year. Phish has released thirteen studio albums to date and has sold over eight million albums and DVDs in the United States.