The Kia Forum | Inglewood, California
Fans of classic rock and heavy metal alike, we have a very special concert coming up for you!! None other than the mighty Scorpions, on a massive world tour with the fearsome Megadeth, will hit the Forum stage on Saturday 7th October 2017!! Tickets will sell out fast so be speedy – get your tickets and get ready to rock out!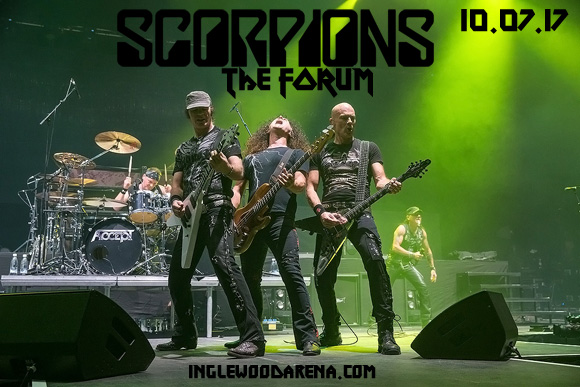 Formed in 1969 Hanover, West Germany, The Scorpions are best known for their massive hit single "Rock You Like A Hurricane," from their 1982 album "Blackout". Selling over a million copies in the United States alone, the album's first single "No One Like You," was a huge hit, which was surpassed by the massive attention brought to them by "Love At First Sting," followed, of course, by the massive MTV single "Rock You Like A Hurricane"!! Since then, the album has been certified double platinum.
Their tour with Megadeth has been named the "Crazy World," tour, after their 1991 album. Singer Klaus Meine spoke about the theme behind the tour; "When our album Crazy World was released back in '91, right at the end of the cold war, we toured around a world that was pretty crazy back then, but there was so much hope in the air for a more peaceful future…Now, 26 years later, things are getting more crazy every other day. After all these years, 'Crazy World' is still a good motto for our upcoming world tour. We are very much looking forward to seeing all of you out there."
Click the "Buy Tickets," button to secure your place at The Scorpions with Megadeth TODAY!!!