The Kia Forum | Inglewood, California
Are you ready for the BEST, MUST-SEE metal concert of the year??? Metal giants Slayer are on tour with Lamb of God and Behemoth!! The unholy trio are making preparations to set The Forum on fire on Saturday the 5th August 2017 – are you willing to be there?? Click the "Buy Tickets," button above now to get yours before they sell out, show up early and get ready for a wild and furious night like nothing you've ever seen before!!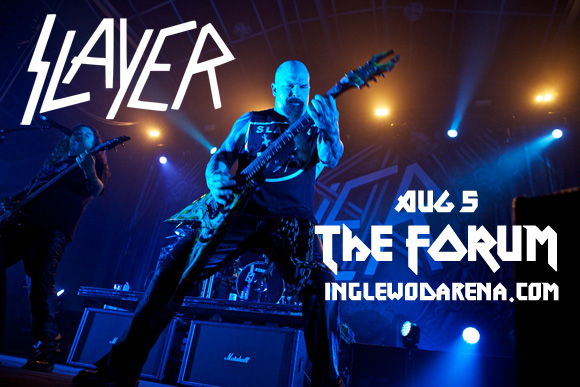 The month-and-a-half-long North American tour of destruction will start in early July in Bemidji, Minnesota, and finish up mid-august in Phoenix, Arizona. The metal heavyweights are each legends in their own right, and the bands are just as pumped about the tour as fans. "As metal tours go, this is the one that your fellow metal heads will be bragging about if you miss it!" Kerry King, Slayer's guitarist and frontman boasts; "… the potential for greatness at these events is mind blowing."
Lamb of God's Randy Blythe has to say about the tour, "It's been a while since we've toured with the almighty Slayer, & even longer since we've hit the road with our friends in Behemoth – I can't wait! This tour is gonna be the feel-good event of the summer… (as long as your definition of a good time means brutal, caustic, and hideously loud music) – see ya there!"
Slayer, Lamb of God and Behemoth – for metal fans, it really doesn't get any better than this! You CAN NOT AFFFORD to miss this show, so don't delay!! Hurry and grab those tickets while they last and prepare yourselves for a devilishly amazing night!!