The Kia Forum | Inglewood, California
After three and a half decades in the industry and a year on the road, Slayer will be performing two back-to-back shows at The Forum, starting on Friday 29th November 2019, as part of their farewell tour – The Final Campaign! A bittersweet moment for all fans of the thrash metal legends, the shows will be the last chance for Slayer devotees to see the band perform live, but they're going out with a bang, and with one hell of a line-up! Joining the iconic group, who will be performing a set of their best-loved songs, will be funk metal oddballs Primus, industrial metal heroes Ministry and Pantera vocalist Philip H. Anselmo!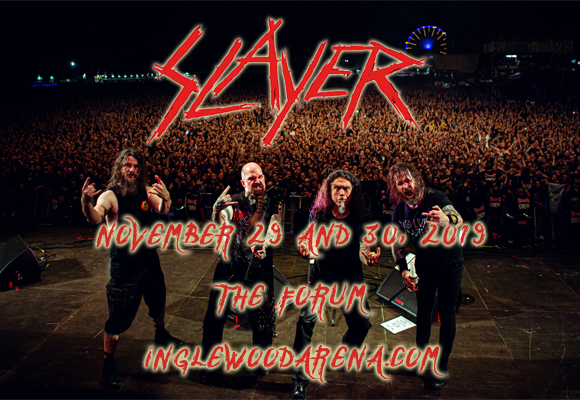 Pioneers of the thrash metal sound, Slayer came to prominence in the 1980s with their aggressive, powerful, often controversial and highly influential take on heavy metal music. Often linked with Metallica, Megadeth and Anthrax, as one of the "big four" founding bands of thrash, Slayer was formed by Kerry King and Jeff Hanneman in 1981, and came to fame with its seminal 1986 album Reign In Blood. Hailed by many as the greatest speed metal album of all time, Reign In Blood was the band's first album to enter the Billboard 200, despite receiving widespread censorship due to its artwork and lyrical content, and is now thought of as a classic. Over the years, due in part to their loyal fan base and the shifting of social attitudes toward heavy metal, Slayer slowly gained critical recognition for their musical ingenuity, receiving five Grammy Award nominations throughout their career. Slayer's current tour marks their last ever outing, after which their 35 year career will come to an end.