The Kia Forum | Inglewood, California
It's the event you've all been waiting for! Smashing Pumpkins will be heading to The Forum on Friday 31st August 2018 for a very special show that you'll be glad you didn't miss!
"Some 30 years ago, as the Smashing Pumpkins, James Iha and I began a musical journey in the cramped rear bedroom of my father's house," Corgan said in a press release. "And so it's magic to me that we're able to coalesce once more around the incredible Jimmy Chamberlin to celebrate those songs we've made together."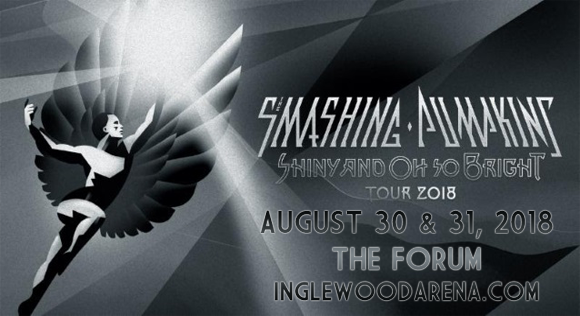 One of the most commercially successful and critically acclaimed bands of the 1990s, Smashing Pumpkins breakthrough album was 1993's Siamese Dream. Their debut was followed by 1995's Mellon Collie and the Infinite Sadness, which debuted at number one on the Billboard 200 album chart and launched the album's lead single, "Bullet with Butterfly Wings", which also debuted at number one on the US Billboard 200. After several line-up changes over the years, original band members Jimmy Chamberlin and James Iha officially rejoined the band with Billy Corgan in February 2018.
"This show and staging will be unlike any we've ever done and will feature a set unlike any we've ever played," Corgan said. "For if this is a chance at a new beginning, we plan on ushering it in with a real bang."