The Kia Forum | Inglewood, California
Journey & Santana comes to The Forum on Sunday 28th August 2016
Two living legends. Two of rock music's most incredible forces. Both are performing on a co-headlining tour. Back-to-back spectacular shows on one stage. JOURNEY and SANTANA. How lucky can you get?! Fans are indeed fortunate that they get to experience this kind of intensity in this lifetime. You may think that never in your wildest dreams did you see yourself witnessing this lethal combination. Now stop pinching yourself. This is the real thing. All you've got to do now is wake-up, get-up, and act quickly as fans are not letting this one moment in time pass them by. This is a hot ticket. Go, book your seats now!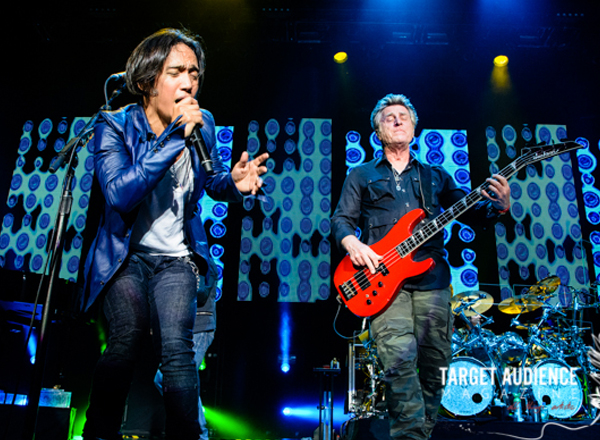 Journey and Santana, are joined at the hip, so to speak. Prior to establishing Journey, Neal Schon, was once part of the band Santana. This American Latin rock outfit was formed by Mexican guitarist Carlos Santana in San Francisco, California in 1967. Santana has sold over 90 million records worldwide, making them one of the world's best selling groups of all time. Countless hit records came with corresponding awards, including the most coveted Grammys. They have eight Grammy Awards and three Latin Grammy Awards. Carlos Santan is listed by Rolling Stone Magazine as 20th of the greatest guitarists of all time; and was inducted into the Rock and Roll Hall of Fame in 1998.
As Neal Schon exited Santana, he went on to form American rock band, Journey in 1973. Between 1978 and 1987, Journe y was at the pinnacle of success. The band had gone through several phases of hiatus, as well as lead-vocalist changes, when original front man Steve Perry left for good. In one of their comebacks, Schon went on a journey to again to find a suitable vocalist, and this time, his search led him to YouTube, where he found a Filipino singer and band vocalist named Arnel Pineda. Once again, Journey went on tour, released a new album, and found a new generation of fans who rocked to their classic hits like "Who's Crying Now," "Don't Stop Believing", "Open Arms," and more. Journey ranks as the 25th best-selling bands of all time – with record sales of over 90 million albums. Their hit 'Don't Stop Believing' made a phenomenal comeback at the charts, reaching number 3 on iTunes downloads.