The Kia Forum | Inglewood, California
MASSIVE news, ladies and gentlemen! After a stream of incredible single releases teasing the new album, the wait is finally over – Maroon 5 are hitting the road with their hotly anticipated 6th album, "Red Pill Blues"! They're taking to the The Forum stage on Tuesday 5th June 2018 – tickets are in high demand and expected to sell out fast, so don't delay – get your Maroon 5 tickets TODAY and be in that crowd!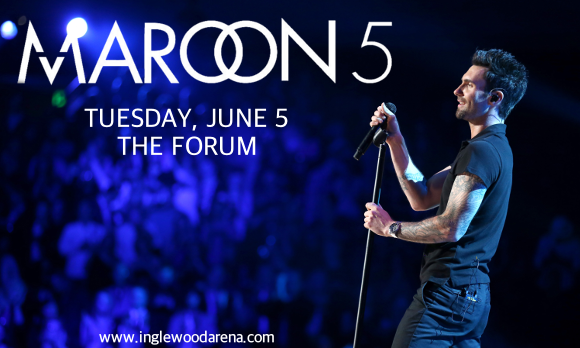 Although the band kept very quiet about the new album, they've had fans foaming at the mouth over the last year with the star-studded singles "Don't Wanna Know" featuring Kendrick Lamar and "Cold" featuring future. With their most recent single, "What Lovers Do," a collaboration with SZA, the band announced the release of their most carefully crafted, yet risk-taking record to date, featuring multiple guest appearances from various well-known artists.
"We were originally going to put the record out earlier this year, but because of our hectic schedules, we didn't feel we had enough songs or it was quite there yet," explained guitarist James Valentine regarding the timing of the release. "We took this summer to work on it some more. And I'm really happy that we did — I don't think we had "What Lovers Do," "Girl Like You" or "Help Me Out" yet."
We can hardly wait to hear all the new material live – can you? Then what are you waiting for?? Get your tickets to see Maroon 5 NOW while you still can!!